Exclusive
Kidnapping, Assault Charges & More! Horrific Past Of Simone Biles' Dad UNCOVERED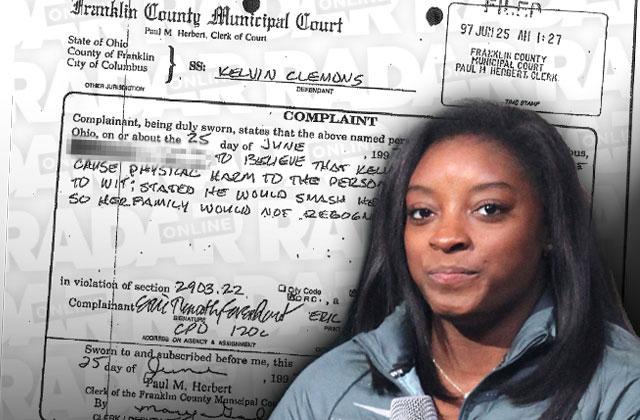 Simone Biles detailed her biological mom's substance abuse problems in her memoir, but noticeably left out her biological father. Now, RadarOnline.com can exclusively reveal that Kelvin Clemons spent the athlete's childhood in-and-out of prisons across Ohio on a slew of charges ranging from burglary to assault!
Clemons' troubles began in February 1987 when he was charged with kidnapping and raping a family member. He was arrested and placed on $5,000 bond before the case was dismissed.
Article continues below advertisement
He was charged with attempted aggravated burglary a month later, but the crime was amended to a criminal trespassing charge. He pleaded guilty, and was sent to jail for 30 days in relation to multiple cases.
He pleaded to another attempted aggravated burglary and criminal trespassing charge six months later, and served 30 days as well.
Then, he pleaded guilty to an attempted grand theft auto with possession of criminal tools charge two months later. He pleaded guilty, and was sentenced to 18 months in jail in relation to five other cases. Clemons was also responsible for his court costs.
In December 1987, he pleaded guilty to another aggravated burglary charge and was sentenced to a term of five to 25 years, concurrent with three other cases. Eight days later, he was sent to jail for 18 months in relation to another attempted grand theft auto charge. Finally, a judge referred him to a psychiatric clinic for drug dependency.
Then, Clemons pleaded guilty to two charges of aggravated burglary and theft in January 1988. He was sent to jail as part of a deal with his other cases at the time.
Article continues below advertisement
The "Final Five" gymnast was born on March 14, 1997 — but Clemons couldn't clean his act up. He was charged with domestic violence and menacing after an arguing with Shanon Biles when Simone was just three months old! Police reported that he told her "he would smash her face into the wall so her family would not recognize her." The case was later dismissed.
Franklin County police reported that he attempted to "knowingly sell a controlled substance included in Schedule II, to wit: crack cocaine for $20 in an amount less than one gram" in 2003, but the case was dismissed.
Then, in 2005 he was charged with two counts of domestic violence and assault against his former live-in girlfriend. Police reported that he "said to the other person, 'I want to kill you so bad' while assaulting said other person and stated, 'don't say anything else or I'm gonna kill you.'" He was sentenced to 180 days in FCCC in the matter.
Clemons failed to pay two months' rent the following year, and was served an eviction notice. He refused to leave the apartment, and the case went to trial. He didn't appear in court, and the judge ordered him to give his landlord restitution of the premises and pay court fees.
Article continues below advertisement
In 2012 he was charged with disorderly conduct in regards to being intoxicated. He pleaded no contest in the matter, but later consented to a guilty finding. He was sentenced to one day jail, and was given credit for time served.
While Simone was prepping for Rio, Clemons was charged with having an open container of Natty Lite in his car. He was fined $100, and was credited for the two days he previously served in jail.
Stay with RadarOnline.com for more.
We pay for juicy info! Do you have a story for RadarOnline.com? Email us at tips@radaronline.com, or call us at (866) ON-RADAR (667-2327) any time, day or night.