Exclusive
Motion To Strike Back! Jim Carrey Blasts 'Shakedown' Lawsuit Claiming He Gave Ex STDs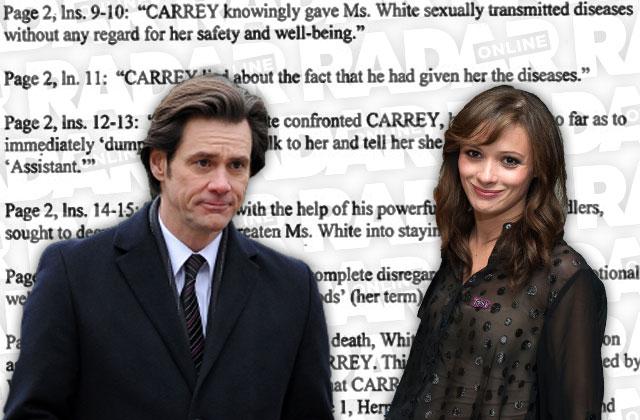 RadarOnline.com can exclusively reveal that Jim Carrey is fighting back against claims that he gave his late ex-girlfriend Cathriona White, a host of sexually transmitted diseases and is blasting the case as nothing but an attempt to shake him down for millions.
In a motion to strike filed by his lawyers on Dec. 21, the Yes Man star requested the court delete "numerous irrelevant, false and improper allegations" mentioned in a complaint filed in September by the plaintiff in the case, White's ex-husband, Mark Burton, who is suing Carrey, 54, for White's wrongful death following her 2015 suicide at age 30.
Article continues below advertisement
Lawyers argued that the claims were inserted into the original complaint for the purpose of "harassing, embarrassing and humiliating Carrey in an effort to shame him into unmerited settlement."
As RadarOnline.com reported, Burton claims in his lawsuit that Carrey "knowingly gave Ms. White sexually transmitted diseases," including herpes and gonorrhea, in 2013 "without any regard for her safety and well being" and that he "lied about the fact that he had given her the disease."
Burton also alleged Carrey illegally obtained the prescription drugs — Ambien, Propranolol and Percocet — that killed her.
Carrey wants that and numerous other passages, including the allegation that he had sought to "threaten Ms. White into staying quiet' and that he "left her as 'damaged goods'" stricken from the complaint.
READ THE FULL MOTION TO STRIKE
Carrey was also displeased with Burton for alleging that he used his handlers and attorneys to "silence" White , an act they slammed as "despicable," "abhorrent" and "outrageous."
Carrey blasts Burton as an opportunist in the filing.
"Burton's 'marriage' was a fraudulent fake from the start and void from inception," blasted the actor, pointing out the two never lived together in the same state let alone the same residence. "To be blunt, the marriage was a sham."
Carrey is expected to appear before the court in Los Angeles on the case in March.
We pay for juicy info! Do you have a story for RadarOnline.com? Email us at tips@radaronline.com, or call us at 800-344-9598 any time, day or night.