Banking On A Comeback! George Michael's Companies Were Bleeding Cash Before His Death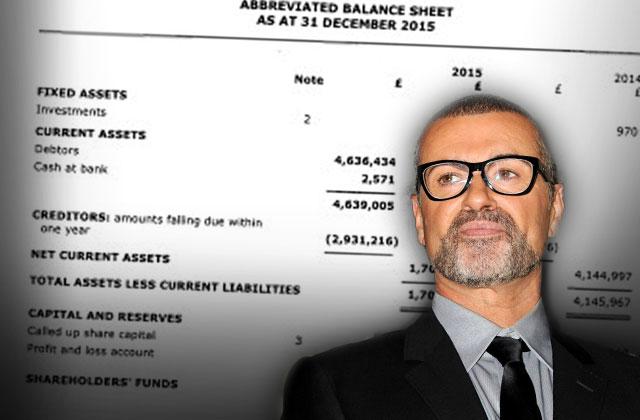 George Michael's businesses had lost millions of dollars in the months before his death, RadarOnline.com has learned, as the star was planning for a massive comeback that never would take place!
Michael, born Georgios Panayiotou, was involved in more than ten different businesses before his death on Christmas Day, according to British business filings.
His main company, Nobby's Hobbies Holdings, Ltd., oversaw the sales of his albums and royalties. But in recent years, documents show that it had become less profitable.
Article continues below advertisement
According to documents obtained by Radar, by Dec. 2015 (the most recent period of available records) the company's total assets were just $2 million, down from about $5 million the previous year. The company had just over $3,000 in the bank, compared to nearly $500,000 the previous year. (All figures are based on current exchange rates for the British pound.)
Michael's nine subsidiary companies represented a net asset of just over $5 million, according to the documents, with several in the red.
Another of his companies, TwentyFive LLP, was losing cash too. More recent records for that project, tallied on March 31, 2016, show that TwentyFive had just over $25,000 in the bank, compared to nearly $500,000 the previous year.
The total assets of TwentyFive LLP were listed as roughly $20,000 — a huge drop from the previous year's total assets of $5 million.
But according to reports, Michael had a plan to turn his fortunes around. Insiders said he was working on a new album with super producer Naughty Boy, which would represent his first studio album since "Patience" in 2004.
Article continues below advertisement
He also was wrapping up a documentary called Freedom, which was expected to debut on Showtime in the U.S. in spring 2017, alongside a reissue of the Listen Without Prejudice album.
There were even rumors of a world tour in 2018.
Promoter Paul Dainty told UK's Mirror, "It's a total shock, I was in the process of setting stuff up with his manager."
The payments for those projects — if the deals were ever finalized — do not appear to be reflected in the most recent filings available. But at some point, Michael may have transferred money from these companies to private accounts not subject to public audit.
As Radar reported, Michael passed away at the age of 53 in his UK home on Christmas Day.
His longtime lover, Fadi Fawaz, claimed to have found him dead peacefully in bed.
Story developing.
We pay for juicy info! Do you have a story for RadarOnline.com? Email us at tips@radaronline.com, or call us at 800-344-9598 any time, day or night.