Exclusive
Heartbreaking! Christina Grimmie's Tragic Death Secret Revealed In Court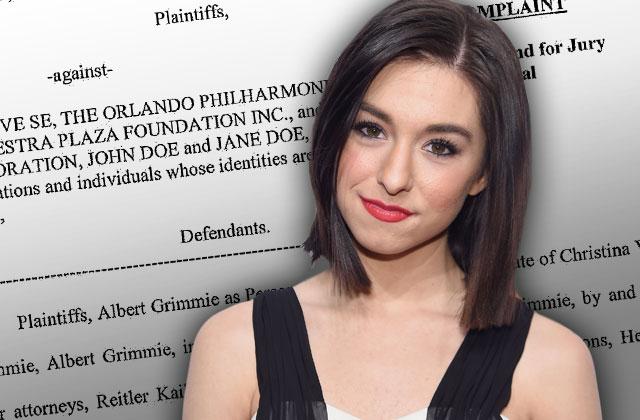 Christina Grimmie's dad revealed her shocking future plans in court, RadarOnline.com has learned.
Albert Grimmie filed a suit against AEG and the owner of The Plaza Live Theater (where Christina was shot) under Florida's Wrongful Death Act. Christina's mother, Tina, also filed a claim against them for her mental pain and suffering, and her brother, Marcus, filed for negligent infliction of emotional distress.
Article continues below advertisement
Radar obtained the court filing which revealed that "The Voice (NBC) had expressed interest in having Christina back as a fashion consultant for another season of The Voice." But, the 22-year-old singer was never able to return to the hit show as she was gunned down during a meet-and-greet after her June 10 concert . Her autopsy concluded that she died of "gunshot wounds of head and chest."
Albert also claimed that "more than 40% of the households in Florida contain at least one firearm" so "the Orlando Philharmonic Orchestra could have reasonably anticipated that attendees at events held at The Plaza Live Theater might bring weapons with them to such events if adequate security measures were not put into place to prevent the same."
He also blamed The Plaza Live Theater for not having a well-equipped staff, saying, "in a cost cutting measure on June 1, 2016, only nine days before the shooting, the Orlando Philharmonic Orchestra fired The Plaza Live Theater's general manager, who had been employed there for 6 years...on June 10, 2016, the new general manager of The Plaza Live Theater, Jim Heffelfinger, had only worked at the theater for 7-10 days."
Article continues below advertisement
The family is requesting a jury trial to determine the financial amount owed for "the future support and services Christina would have provided to Albert, Tina, and Marcus from the date of her death to her anticipated life expectancy." They also believe they are "entitled to Christina's projected income after taxes had she lived her normal life expectancy" and "to recover any and all medical and funeral expenses paid."
Stay with Radar for more.
We pay for juicy info! Do you have a story for RadarOnline.com? Email us at tips@radaronline.com, or call us at 800-344-9598 any time, day or night.