Drinking Away The Pain! Inside Robin Thicke's Meltdown Over Dad Alan's Death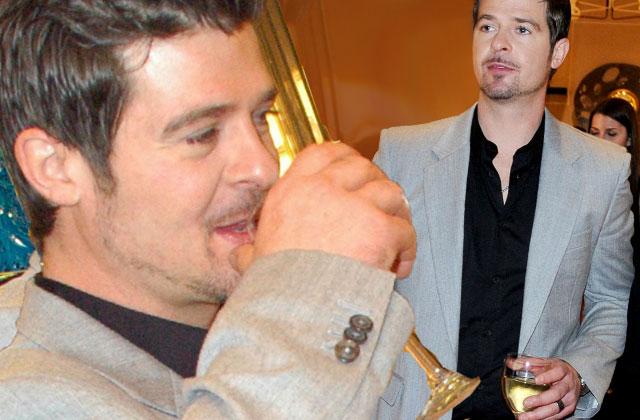 Robin Thicke is not handling his dad Alan's death well, multiple insiders told RadarOnline.com, and he's turned to drinking to numb the pain.
Just two days after the iconic 80's sitcom star's sudden passing, a source close to the Thicke family told Radar exclusively that Robin "is an absolute mess right now!"
"Robin is completely inconsolable," the insider said. "He has been snapping at his girlfriend April, who is just trying to be there for support. They ended up getting into a huge fight yesterday."
Article continues below advertisement
As previously reported, Robin – who has openly battled against alcohol and addiction for years – vowed that he would not turn to booze to cope with his father's death. Instead, he told friends, he was going to use this as a "huge wake-up call."
"But even though he said that he was going to avoid alcohol after his dad's death, he got very drunk yesterday," the insider told Radar.
"It was so bad that the rest of his family did not want to be around him. They are all very shaken up right now and everyone is dealing with this in their own way."
Hours after Alan died on Dec. 13, Robin posted the following message on his Instagram: "He was the best man I ever knew. The best friend I ever had."
Alan is survived by his wife Tanya and three sons, Robin, Brennan, 41, and Carter, 19.