Frightening Ordeal! Olympic Golden Girl Simone Biles Tells Of Secret STABBING Nightmare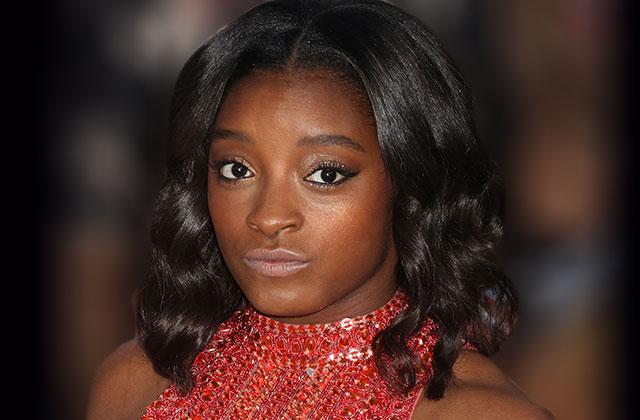 Simone Biles escaped her troubled childhood in Ohio, but her life in Texas wasn't much safer, RadarOnline.com has learned.
Her grandparents, Ron and Nellie Biles, formally adopted Biles in 2003 — and they put her in gymnastics classes as a way for her to release her built up energy.
She quickly excelled at the sport, and her training regimen soon consumed her life. As a result, Ron and Nellie decided to enroll her in a private middle school across the street from the local gym to give her more training time, but instead, they put her in great danger.
Article continues below advertisement
"In eighth grade, only seven students were in my homeroom — and one of them tried to stab me," Simone confessed in her memoir, Courage to Soar.
"Brandon (not his real name) had something a little bit wrong with him," she explained. "He hated getting any grade below a 90. Whenever he scored lower than that, he'd dig his pencil into his arm, dragging it back and forth until he saw blood."
"One day, he got back an 81 on a test right at the end of class," she detailed. "I was sitting next to him that afternoon, and as he took up his pencil, I grabbed it away."
"'Brandon, don't do that please,' I said," she described.
"The way he cut himself scared me. But what I didn't realize was that Brandon had a pocketknife, so I wasn't prepared when he pulled it out and tried to stab my hand. Luckily, he missed, and I didn't wait for him to try again. I jumped up from my seat and ran out of the classroom without waiting for the teacher to dismiss us."
"Brandon ran after me, waving the pocketknife, but I was faster than he was," the Olympic gymnast added.
Article continues below advertisement
"I raced outside the building and jumped over a gate that led to another part of the school, and I padlocked the gate behind me. I heard Brandon banging and pushing at the gate, trying to get it open, but I didn't look back. I just kept running until I got to the safety of the school office."
She immediately yelled out that Brandon was trying to stab her, but the front desk clerk told her, "we've known Brandon since the first grade, and he would never do that."
Simone told her parents when she got home, and they later met with the school to have her separated from Brandon. She claimed they didn't pursue the matter any further since they knew she wasn't staying at the school after the year was over.
She later found out that most of the kids enrolled at her school had learning and behavioral issues — but it wasn't until years later that Simone would be diagnosed with ADHD. Simone, 19, is now on medication to control her behavior.
We pay for juicy info! Do you have a story for RadarOnline.com? Email us at tips@radaronline.com, or call us at (866) ON-RADAR (667-2327) any time, day or night.