Rosie O'Donnell Desperately Tries To Backtrack For Calling Trump's Son Autistic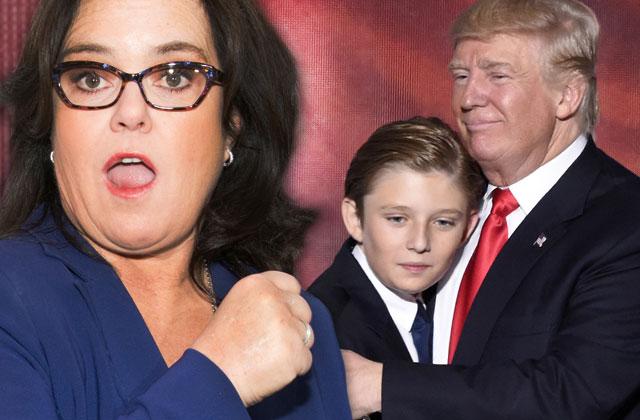 Rosie O'Donnell is desperately trying to sweep her comments she made about Donald Trump's 10-year-old son under the rug.
O'Donnell came under fire by fans on Twitter after she sent a bizarre tweet out about the president-elect's son Barron: "Barron Trump Autistic? if so - what an amazing opportunity to bring attention to the AUTISM epidemic," with a video clip.
Her fans quickly exploded, blaming the former View hostess for putting the spotlight on him for no reason.
Article continues below advertisement
"Not my movie clip — lots of us— who raise autistic children notice things many would miss… somethings felt familiar #NOshameAUTISM," she lashed back at fans with.
But it appears her tweets defending her claim weren't doing much. The 54-year-old comedian decided to make a long-form statement on, where she revealed, "I have no ill will for his children" in a poem-like post.
"When I saw the anti bullying video that mentioned Barron it spoke to the symptoms many ASD kids have it was educational and informational. These symptoms so many do not understand — I thought — how amazing IF IF it is true."
Despite O'Donnell's past feuds with Trump over his beliefs, she did make it clear she didn't intend to spark another fire with him. "But this autism subject — had nothing to do with donald though I admit he does trigger me in all ways."
"I have no ill will for his children — or any children — and if u knew anything about me — u would know that."
What do you think of O'Donnell's tweet about Barron? Tell us in the comments below!
We pay for juicy info! Do you have a story for RadarOnline.com? Email us at tips@radaronline.com, or call us at (866) ON-RADAR (667-2327) any time, day or night.