Inside The Slow Painful Deaths Of Rescue Dogs That Matt Damon Vowed To Help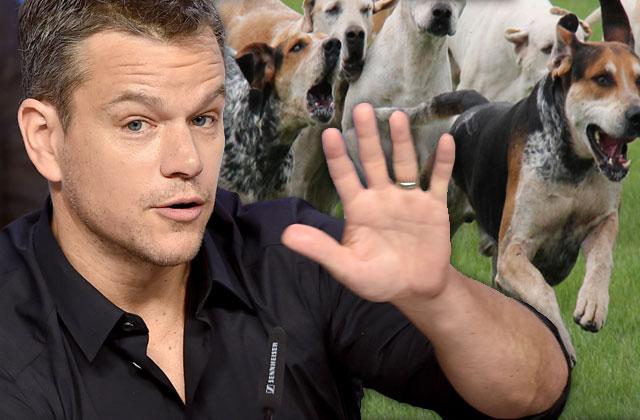 After Matt Damon — plus other celebs like Joaquin Phoenix and Minnie Driver — made a PSA to help rescue thousands of dogs from China's dog meat trade, a shocking new report claims the charity efforts run by animal crusader Marc Ching — and L.A pet nutrition business and restaurant for pets owner — ended in a heartbreaking disaster.
Ching set out to gain support from Hollywood on his mission to rescue dogs from China, South Korea, Cambodia, Vietnam and Indonesia — where he oftentimes went by himself, even brushing death several times with his attempts to save dogs.
Article continues below advertisement
He was ready to tackle his biggest mission yet: rescuing animals in southern China at the annual Yulin dog festival, where the dogs were beaten, killed and eaten. But what unfolded after volunteers managed to scoop up 1,000 dogs turned into total hell for those dogs.
According to a Daily Mail investigation, Ching and his volunteers whom came from all over the world, sent 300 dogs to a shelter in Nanning, just 130 miles from Yulin. The other 700 rescued dogs from the event were sent to a Buddhist sanctuary, where Ching had made connections with monks to help find homes for the animals.
Even though the animals may have arrived at a safe place, their diseases and temperament issues quickly became a huge problem. Even worse, Ching didn't realize that Buddhist sanctuaries believed animals weren't worthy to receive treatment if they were sick. According to what Beri and Sarah told the Daily Mail, over two-thirds of the dogs were left to die in cages, all kept in scorching temperatures from 7 a.m. to 4 p.m. every day.
Article continues below advertisement
One US female volunteer said, "We thought the rescued dogs were all going to a safe house in Nanning," she said. "Instead, 700 of them ended up at Buddhist sanctuaries and most died because they didn't get the care they needed." She added, "If they had been left in the slaughterhouses to be hit on the head and killed, it would have been better than the suffering they went through."
"I was led to believe we were going to rescue the dogs, give them proper medical care and place them in homes. I didn't know we were going there to pull them out of the slaughterhouse then just dump them," Sarah went on.
Things took a turn for the worse when Ching decided to abandon the rescue efforts and fly back to the U.S. after he began to reportedly suffer depression and also a fallout with his business partner, Jeffrey Beri — leaving the small group of dogs who were barely surviving.
Beri is remaining in China to help save who's left and find them homes. But he did send a warning to his ex-partner Ching about his shady behavior with the charity. "The only reason I am here is to save as many of the remaining dogs that I can. When this is over, I would like a complete audit of what has been donated to and spent by Ching's charity," he told the publication.
Despite Beri's comments, Ching fired back during a phone call with the Daily Mail, saying "those dogs were supposed to die." While the rest of his team claims more than two-thirds of the dogs died, Ching believes only one-third died from lack of care, admitting that he "didn't know the philosophy of the Buddhist monks" when delivering 700 of them to the sanctuary.
We pay for juicy info! Do you have a story for RadarOnline.com? Email us at tips@radaronline.com, or call us at (866) ON-RADAR (667-2327) any time, day or night.