Leah Remini Demands $1.5 Million After Scientology Tries To Have A&E Series Pulled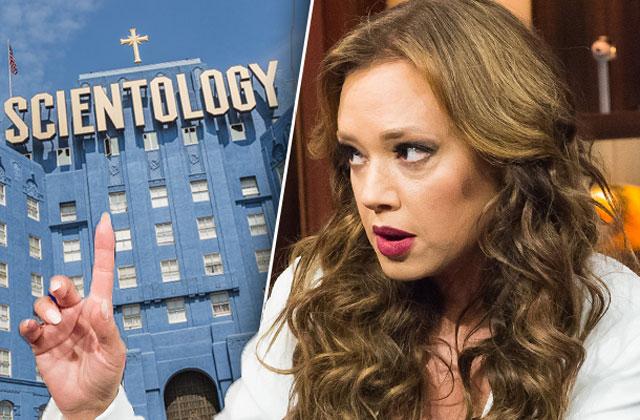 Leah Remini isn't backing down in her fight against Scientology. After the cult-like church attacked Remini in a series of letters sent to A&E executives to derail her upcoming series Leah Remini: Scientology and the Aftermath, she's firing back by demanding they pay up!
Remini's attorney Douglas E. Mirell blasted the letters sent by the International Spokeswoman of the church, Karin Pouw, by saying the church "falsely and maliciously defame Ms. Remini," The Underground Bunker reports.
Article continues below advertisement
He is accusing the church of trying to damage the actress' reputation and interfere with her A&E contract.
Mirell also slammed Pouw of mischaracterizing the 2013 missing person report filed by Remini with the LAPD. In the report, she claimed David Miscavige's wife Shelly has been missing since the summer of 2005.
"Not only did Ms. Remini not know of Ms. Miscavige's whereabouts (or even whether she was still alive) when she filed her missing person report," Mirell's letter read. "But the Church of Scientology's own all-encompassing veil of secrecy renders it literally impossible for Ms. Remini (or for anyone else outside a tight-knit circle of Scientology senior leaders) to know 'the truth' about Ms. Miscavige's location or condition."
He demands the controversial church retract the letters and pay Remini, 46, $1.5 million as "at least partial compensation for the past, present and ongoing emotional and economic injuries and damages she has suffered, and continues to suffer, as a result of this malicious conduct."
Gary S. Soter, an attorney for the church, responded that the church stands by their comments about the former Scientology member.
Article continues below advertisement
"This rollout was intended to generate maximum publicity for Ms. Remini's failed career and to cause maximum harassment to the Church and its ecclesiastical leader," Soter responded, adding that the upcoming series will be "another failed program by a failed 'celebrity' seeking to make a buck off of her former religion."
In Mirell's second letter, he demanded the church pay his client an additional $1 million after they blamed her for the actions of an Austin woman who drove her car into a Scientology storefront. He explained Remini did not have any connection to the people involved in the threat.
Soter replied, "Moreover, since we do not wish to waste resources further on this attempt at attention getting, this will be the last correspondence on the subject."
The show is set to premiere on November 29 on A&E.
Do you think it will be pulled? Tell us in the comments.
We pay for juicy info! Do you have a story for RadarOnline.com? Email us at tips@radaronline.com, or call us at (866) ON-RADAR (667-2327) any time, day or night.