Exclusive
'Negligent' With 'No Regard!' Chip Gaines Once Sued For Injuring 2-Year-Old In Horrific Car Crash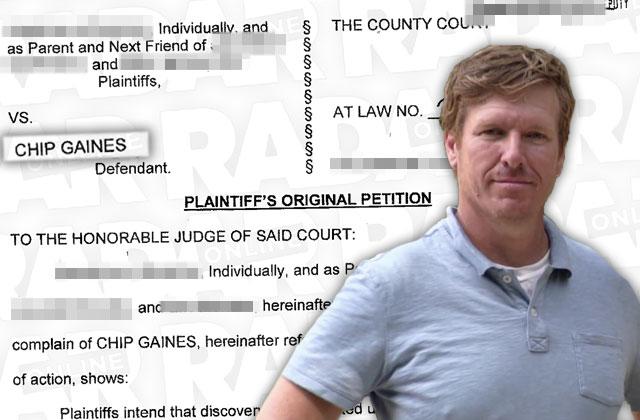 Chip Gaines was found responsible for a two-year-old's injuries in a brutal car crash, RadarOnline.com has learned.
The Fixer Upper star slammed into a car being driven by the toddler's dad (with the mom in the passenger's seat) "on or about January 17, 2001," according to the bombshell court documents obtained by Radar.
"Defendant showed no regard for wet road conditions, caused by heavy rains at the time of this accident or the Plaintiff's oncoming vehicle," the papers read.
Article continues below advertisement
"As a result of Defendant's action, Plaintiffs collided with the Defendant's vehicle propelling redacted into the windshield, causing redacted and the other occupants of Plaintiff's vehicle to suffered property damage and bodily injury sic," the documents claimed.
"Plaintiffs have suffered severe physical and mental pain and anguish, together with reasonable and necessary medical expenses, and in all reasonable probability, Plantiffs will continue to suffer such mental and physical pain and aguish for a long time into the future, if not for the balance of her natural life and will continue to incur reasonable and necessary medical expenses as a result of the collision described herein," the papers read.
The court ruled in favor of the toddler's parents, and ordered Gaines, now 41, to pay a settlement in their favor.
He was forced to pay $8,240.18 to the toddler's mother, $4,360.00 to the toddler's father, and $1,948.82 to the parents on behalf of their child. He also had to put $450 in a trust for the child.
The parents agreed in a compromise, release and indemnity agreement that they would not go after Gaines for any future bills or costs related to the incident.