Exclusive
Too Broke! Camille's Ex-Boyfriend Begs Judge To Dismiss Order To Pay Legal Fees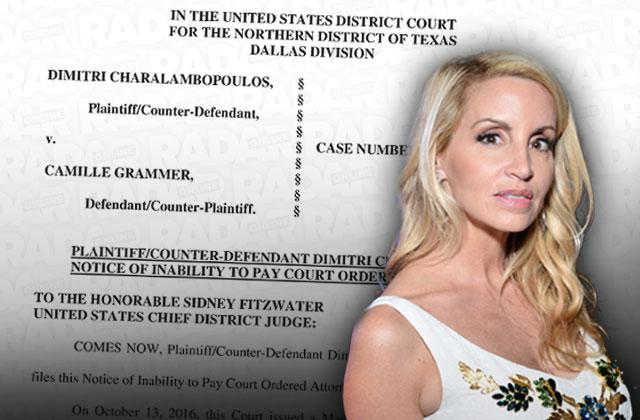 Camille Grammer may not see justice after all, RadarOnline.com has learned!
The ex-Real Housewives of Beverly Hills star won her case against Dimitri Charalambopoulos, for domestic violence — and asked that he pay her $121,307.66 legal fees in the matter. A judge ruled in her favor, and he was given 30 days to pay Grammer.
But now, Charalambopoulous claims he doesn't have the money! He signed an affidavit stating that he is "currently working in construction" and his "income has ranged from $5,000 to $7,000 per month." His expenses exceed his income.
Article continues below advertisement
He reported that his mortgage is $2,073.76 per month, and he has to make child support payments for $1,200 as well. He also pays $1,720 for his son's school tuition, and $1,337.08 for his own legal fees.
He reported that "he only has one bank account and that account currently has less than $200," and his Bank of America balance last month was only $11.10.
In his request to the judge, he claimed that he would immediately pay Kelsey Grammer's ex if he comes into money.