Exclusive
Bob Crane's Son: I Know Who Killed My Father!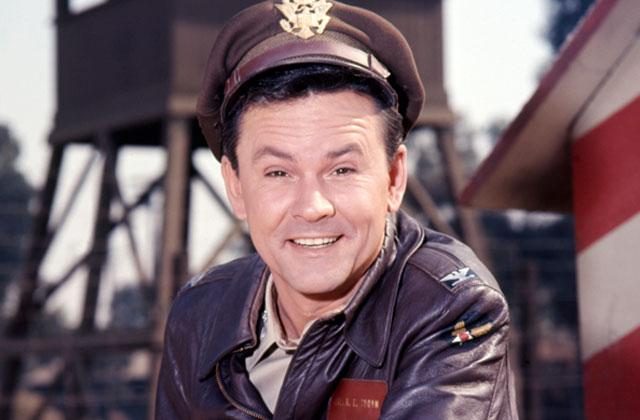 Bob Crane was murdered over 38 years ago, but now his son Robert may finally know who his dad's killer is!
Robert recently revisited his father's brutal killing while writing his memoir, Sex, Celebrity, and My Father's Unsolved Murder, and revealed to RadarOnline.com exclusively that he's "80 percent sure" he knows who killed the Hogan's Heroes star!
"I think percentage wise probably about 80 percent that John Carpenter did it," he told RadarOnline.com. "I used to think for a long time, my stepmother who my dad was divorcing at the time was somehow involved because she was the only one who gained anything that was financial. But police said, 'no, we checked her out.' So I still go with Carpenter."
Article continues below advertisement
"But the 20 percent open could still be maybe a jealous boyfriend or husband of the woman my dad may have been involved with," he added. "But it looks more and more like Carpenter."
"If you're looking at John Carpenter, the motive is rejection," he explained. "My dad was making changes in his life and John Carpenter started out as a friend, and became kind of hanger-on after a while. I think my dad got tired of it and was starting to make some lifestyle changes and probably told him, 'sorry we cant do this party anymore.' And Carpenter might have taken it as some kind of rejection."
"If you're looking at the jealous husband or boyfriend scenario, that's totally different motivation," he added. "I think the murder scene would've looked quite different if it had been the boyfriend or husband of somebody. The murder scene was more controlled — just to one room as opposed to – I think a jealous boyfriend or husband...it would've been more physical or something. A messier scene overall."
Article continues below advertisement
"Of course the motivation from my stepmother who has passed away was money," he said.
Carpenter was the main suspect in Bob's 1994 murder trial, but was acquitted. He died four years later in 1998.
Since then, Robert went through some of the case transcripts on his own to get answers, and reporter John Hook conducted his own "exhaustive year and a half investigation into the case."
"He got blood samples from my dad and sent them to CellMark, which was the lab that worked on the OJ trial and the JonBenet case," Robert explained. "He was trying to conclusively point out that this blood sample in the main suspect's car — John Carpenter — was my dad's blood. What CellMark came up with — it couldn't conclusively say if that blood sample came out of my dad's body. It was the same type, but the case remains open ended after 38 years."
"It's looking like it'll never get solved, but you have to move on," he said, later adding that "even if this case got solved, he's gone. It'll never bring him back. There is no closure."
If Bob's murderer is still on the loose, Robert makes his message to him or her clear, asking: "What could my dad have possibly done or said to cause you to react in this way where you bludgeoned him to death with two blows to the head? What was so dreadful that took you to that point to do that? I will never understand that."
We pay for juicy info! Do you have a story for RadarOnline.com? Email us at tips@radaronline.com, or call us at (866) ON-RADAR (667-2327) any time, day or night.