Exclusive
'Teen Mom' Catelynn & Tyler Arrested For Drugs One Week After Placing Daughter For Adoption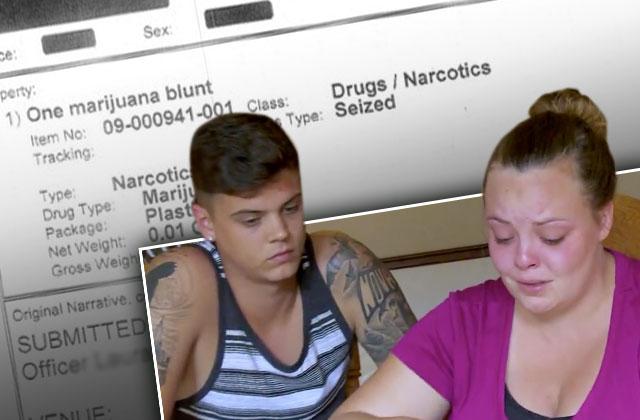 Article continues below advertisement
On May 25, 2009, one week to the day after Carly's birth, Lowell and Baltierra, now both 24, were caught and later charged with Controlled Substance: Use of Marijuana, Michigan's St. Clair County District Court records indicate.
According to a Marine City Police Department incident report obtained exclusively by RadarOnline.com, four juveniles — two identified as Lowell and Baltierra by RadarOnline.com, though their names were redacted in the documents — were spotted standing behind an old building around 8:30 pm.
"I arrived on the scene, and observed one of the male subjects throw something on the ground," the responding officer wrote. "The subjects then began to walk away."
The cop then stopped the young group, and asked what they were up to— and the kids all 'fessed up.
"All four subjects advised that they were smoking marijuana," the officer continued, adding that he discovered a "marijuana blunt" next to the building.
Article continues below advertisement
The joint later "tested positive" for marijuana.
The teens were all taken back to the Marine City Police Department and questioned about the incident.
One female juvenile — likely Lowell — told officers about giving birth.
"She advised me that she had a baby two weeks ago," the officer said. (In reality, it had been just one week.)
Baltierra, Lowell and their two accomplices were released to their parents.
Both reality stars pled guilty, and were ordered to 20 days in jail. However, the sentences were suspended indefinitely upon paying a $200 fine.
Though they were being filmed for MTV's 16 & Pregnant at the time, the July 2009 episode did not mention the arrests.
More than seven years later, Baltierra and Lowell are married homeowners, public speakers and parents to baby Novalee, but they still struggle with personal issues.