Robin Williams's Widow Reveals Chilling Secrets About 'The Pain He Felt'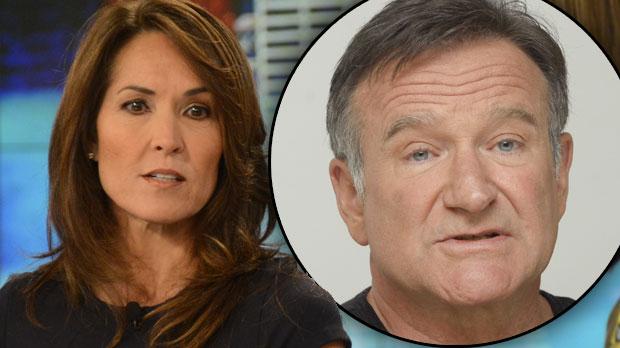 In the explosive essay for the journal of the American Academy of Neurology called "The Terrorist Inside My Husband's Brain," Robin Williams' widow Susan Schneider Williams is revealing more shocking secrets about the actor's last days that were filled with "pain."
"As you may know, my husband Robin Williams had the little-known but deadly Lewy body disease (LBD). He died from suicide in 2014 at the end of an intense, confusing, and relatively swift persecution at the hand of this disease's symptoms and pathology. He was not alone in his traumatic experience with this neurologic disease," Schneider Williams said in the essay.
Article continues below advertisement
As RadarOnline.com reported last year in November, Schneider Williams publicly came forward to reveal that she forgave him for taking his own life after discovering his struggle with Lewy Body Dementia.
"Once the coroner's report was reviewed, a doctor was able to point out to me that there was a high concentration of Lewy bodies within the amygdala," she went on. 'This likely caused the acute paranoia and out-of-character emotional responses he was having. How I wish he could have known why he was struggling, that it was not a weakness in his heart, spirit, or character."
"Robin was losing his mind and he was aware of it," she claimed. "Can you imagine the pain he felt as he experience himself disintegrating? And not from something he would ever know the name of, or understand? Neither he, nor anyone could stop it — no amount of intelligence or love could hold it back."
"Powerless and frozen, I took in the darkness of not knowing what was happening to my husband. Was it a single source, a single terrorist, or was this a combo pack of disease raining down on him? He kept saying, 'I just want to reboot my brain."
Williams was found dead at the age of 63 after committing suicide on Aug. 14, 2014.
We pay for juicy info! Do you have a story for RadarOnline.com? Email us at tips@radaronline.com, or call us at (866) ON-RADAR (667-2327) any time, day or night.