Exclusive
New Secrets EXPOSED: Prostitute Tells All On Lamar Odom Overdose One Year Later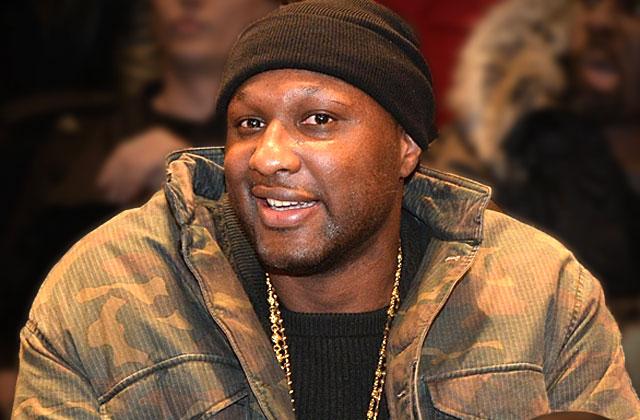 One year after Lamar Odom's accidental drug overdose at the Love Ranch brothel in Nevada, a prostitute who spent time with the athlete dished shocking new details of the scandal.
In a tell-all blog post, Monica Monroe, a legal sex worker under Dennis Hof, revealed that 36-year-old Odom was more interested in spending quality time and "eating KFC" with the women than doing anything physical.
"No sex occurred while Lamar was at the Love Ranch. We talked, we laughed, and we shared our sorrows, but we didn't have sex," Monroe wrote. "I took the opportunity to strip him naked and gave him a full body massage. I was determined to have my way with his ample sized penis, but he just couldn't get it up."
Article continues below advertisement
In place of sex, Monroe claimed that the pair bonded over their personal life struggles, as Odom grappled with his relationship to then-estranged wife Khloe Kardashian.
"Lamar and I made a connection because we both were a little lonely due to recent losses in our lives: I had recently lost my boyfriend of eight years to a shooting and he was distraught over his estranged wife, Khloe Kardashian," she said.
But after Odom's frightening overdose, Monroe's life was sent into a frenzy, with her career severely threatened.
"Dennis Hof's establishments get an impressive amount of celebrity and high-profile visitors, and we're known for maintaining confidentiality and privacy for all of our clients," she confessed. "After Lamar overdosed, it was perceived by many of my high-profile clients that I was no longer discreet, or that I was the type of person to 'kiss and tell.'"
Article continues below advertisement
Now, Hof may even sue Odom over the ordeal, Monroe claimed.
"I spoke with Dennis Hof numerous times about the negative impact this had on my business and he mentioned to me that he was considering suing Lamar for the damage done to Dennis's reputation," she said. "I know that my professional reputation was severely, nearly fatally, tarnished by last year's events, although I'm not sure if Lamar could be held legally responsible for the repercussions of this tragedy."
Sadly, a relapse for Odom wouldn't come as a shock at this point. The former NBA star has been caught partying and drinking on multiple occasions in the last five months.
Worst of all, Odom was kicked off a plane jetting to NYC in July, after he drunkenly vomited on himself — and in the aisle — shortly before takeoff.
Meanwhile, as Odom's life continues to spiral out of control, RadarOnline.com exclusively learned that he was fired from his only source of income, Keeping up with the Kardashians.
We pay for juicy info! Do you have a story for RadarOnline.com? Email us at tips@radaronline.com, or call us at 800-344-9598 any time, day or night.