'F—K YOU!' Dolores Catania SLAMS Jacqueline Laurita Before Melissa Gorga's Fashion Show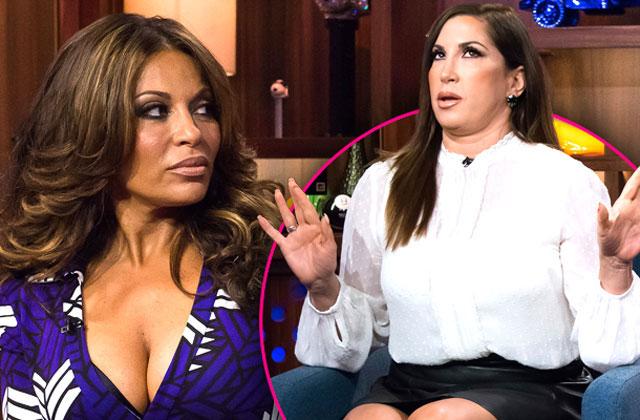 Everyone in Jersey was struggling without Joe Giudice this week!
Teresa couldn't seem to figure out how to help her daughters cope without their dad on his first day away, but luckily Melissa and Joe Gorga came to the rescue with enough Chinese food for "15 people."
Milania Giudice was obviously the most heartbroken, as she wouldn't let go of her mom's phone (in case Joe emailed from behind bars).
"I'm gonna have gray hair by the time my dad gets back," she proclaimed, as Melissa tried to console her.
Article continues below advertisement
She added that "Daddy would take me quad riding every second," and proceeded to leave the dinner table to go for a joyride. Her uncle decided to step in to let her know that he would take her quad riding next time — if she slowed down.
Meanwhile, Dolores Catania decided to plan a housewarming party to celebrate her new kitchen. She decided to invite all the ladies, but made it clear to Siggy Flicker, "if my granite breaks somebody's going down because I didn't even pay for that yet."
Teresa decided to skip the party to stay home with her daughters, and a sick Jacqueline Laurita decided to go to the party — despite her sore throat —and make her entrance known in a "Na'mastay away from me" t-shirt. But of course, drama doesn't stay away from Jacqueline.
PHOTOS; Threats, Fights & Misery! Inside Joe Giudice's Prison Hell
Her husband, Chris, decided to sit down with Joe Gorga to discuss what happened in Vermont — and the men duked it out. But, unlike their wives, they settled their differences and were able to toast to Dolores' new kitchen.
Article continues below advertisement
Then, Dolores threw a gym-class party for all her friends — and gym members. Robyn from the infamous Vermont trip showed up with Teresa, who led the yoga class. Jacqueline never showed — angering Dolores.
"She's accusing me of setting her up and making her look like she was a no-show," she told Siggy in the car on the way to Melissa's Envy fashion show. "She's twisting it around and telling people it's because I didn't put her on the flyer."
"Her and I exchanged words," she explained. "They weren't nice. 'F--k you,' I said, actually."
"I've heard nothing but her badmouthing me from last night until today," she noted. "I'm not going to be a whipping post. I'm not going to call her."
Do you think the ladies will make up in time for Melissa's fashion show? Tell us in the comments!
Watch RHONJ on Sundays at 8 p.m. EST.
We pay for juicy info! Do you have a story for RadarOnline.com? Email us at tips@radaronline.com, or call us at (866) ON-RADAR (667-2327) any time, day or night.