Cher's Bad Investments EXPOSED In Court!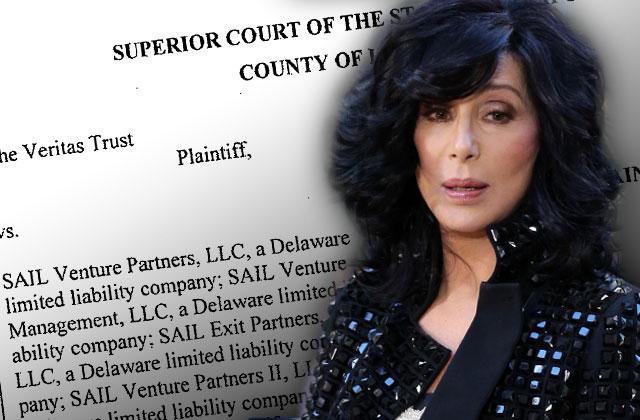 Cher is locked in a bitter lawsuit with a firm that she claims defrauded her out of $1.3 million and RadarOnline.com has the exclusive court documents that show the wealthy singer's financial disaster.
The "If I Could Turn Back Time" singer filed a lawsuit under the name Veritas Trust and accused a financial investment firm of defrauding her at the same time they were collecting millions in commission fees.
Article continues below advertisement
In her lawsuit, she claimed that between 2006-2007, Veritas Trust's business manager Warren Grant convinced her to invest more than $1 million into two companies, SAIL Venture Partners and SAIL Safe Water Partners, as a limited partner. She claims she was promised her investments would generate strong returns.
READ the exclusive court documents here
However, Cher claimed she learned that the investment firm would routinely leverage their insider positions with the portfolio companies to placate limited partners with news of supposed "exit strategies, impending initial public offerings," and the potential for huge profits, but all of those were not financially successful.
The singer says that she had no idea that the investments were tanking, with 10 of the initial portfolio companies having filed for bankruptcy and the others not likely to ever see a profit. However, the firm still continued to collect millions from their 2.5% annual management fees and placated the limited partners with, "false, rosy representations in violation of the Partnership Agreements," Cher's lawsuit claimed.
Article continues below advertisement
Once she became aware of the allegedly shady activity, she claims SAIL LLC ceased communicating with the limited partners and it's unclear if anything is left of the money they invested. Cher claimed the firm admitted to improperly allocating the partnership's management fees to invest in portfolio companies and to cover their own personal expenses, including lavish vacations.
She filed suit accusing the company of breaching their contract, along with breach of fiduciary duty, professional negligence and fraud. She demanded damages, along with restitution for the harm she says they caused her.
In exclusive documents obtained by Radar, SAIL Venture Partners and the other partner companies fired back at Cher's fraud accusations.
The firm denies every allegation of wrongdoing in regards to their clients and say they acted in good faith at all times.
SAIL Venture believes Cher's claims are barred due to the negligence, fault or wrongful conduct of the singer, and if she is awarded any judgement in her lawsuit they should be entitled to an off-set.
Article continues below advertisement
Further, the investment firm claims all of their actions were justified, and they even claim the singer waited too long to bring the case against them, writing, "Plantiff's claims are barred, in whole or in part, by the applicable statute of limitations."
The defendants blasted the singer's claim she has been damaged financially by them and wrote, "Plaintiff has not suffered any damages and, therefore, is not entitled to any relief."
SAIL Venture is demanding the entire lawsuit be thrown out of court and the judge deny Cher any financial compensation. They are also seeking to have her cover their legal bills.
Story developing.
We pay for juicy info! Do you have a story for RadarOnline.com? Email us at tips@radaronline.com, or call us at 800-344-9598 any time, day or night.