'RHOC' Feud Explodes! Tamra Accuses Vicki Of 'Exaggerating' Injuries From Crash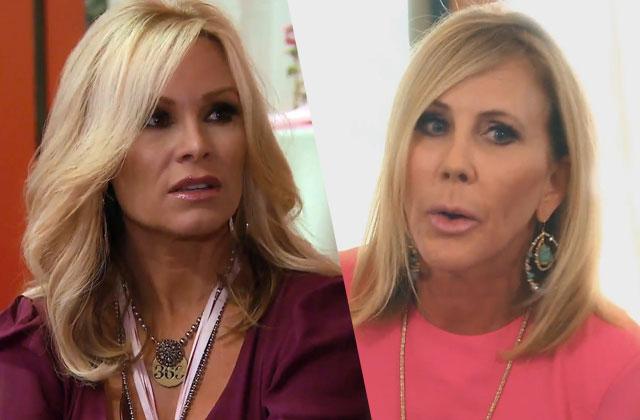 Tamra Judge still doesn't trust frenemy Vicki Gunvalson! Despite being airlifted to a hospital after an ATV crash on this week's The Real Housewives of Orange County, Judge accused her on-again, off-again friend of lying about her injuries.
"'Yeah, yeah, I think she was exaggerating, only because I had a nurse on site who said as soon as she saw she hit the ground she was like, 'Oh my neck hurts' when prior to that she'd been all like 'What just happened?,'" she said while moving her neck rapidly from side to side, indicating it wasn't injured.
Article continues below advertisement
She added, "It's always the quiet ones you need to worry about, not the ones who are like 'ugh!'"
The dig is a far cry from last night's episode, as Judge slammed Shannon Beador and Meghan King Edmonds for accusing Gunvalson of playing the victim.
Gunvalson sent Edmonds photos of herself on a gurney in a neck brace, which Beador found suspicious.
"If I'm real injured and I'm in a helicopter, you're not going to find me taking selfies of myself," she said, while Edmonds added, "It's hard for me with my past with Vicki to truly believe that Vicki is hurt when she is. Because all she's done is lie, lie, lie."
Judge then slammed her co-stars while on the phone with Edmonds for refusing to visit Gunvalson at home.
"She's in a neck brace with a paper gown on," Judge screamed over the phone. "Why couldn't you have at least called her and see if she needed like something to wear? You didn't care. She's in the friggin' hospital – airlifted. And no one even wondered. Go to hell!"
As RadarOnline.com readers know, Judge fought with her longtime friend when she suspected Gunvalson helped her ex-boyfriend Brooks Ayers cover up his alleged fake cancer scandal.
Do you think Gunvalson exaggerated her injuries? Tell us in the comments!