'Go To Hell!' Tamra SLAMS Meghan For Abandoning Injured Vicki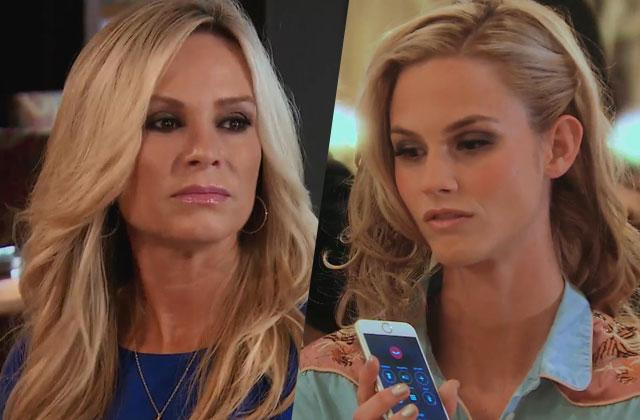 As the 'Wives recovered from the accident in Glamis, Tamra Judge returned from the hospital determined to make the trip fun again, while Vicki Gunvalson sat alone in urgent care, wearing a neck brace.
Meanwhile, new alliances formed in the wake of Meghan King Edmonds and Shannon Beador's refusal to visit Vicki at the hospital, despite former frenemies Heather Dubrow and Kelly Dodd's urgent phone call implying that they rush to her side.
Article continues below advertisement
"I'm not sure what Heather's expecting of me," Shannon scoffed while on golfing double date with Meghan and their husbands, adding of Vicki, "She's been nothing but horrible to me."
"I mean, you guys should go, you're her friends," Meghan added on their call, causing a major stir among the women when she dared to map-quest the trip for them.
Watch the Video on RadarOnline.com:
Later, over the phone, Tamra gave the pair a run-down of just how severe the accident was, letting them know that it was a little too late to feign any sympathy.
After Meghan attempted to justify their actions (or lack thereof), Tamra snapped: "You know what Meghan? Go to hell!"
Then, when Meghan headed to Vicki's house to make amends, Gunvalson let her have it, even in her loopy state.
"I don't know why it takes a near death experience to have compassion," she said. "Heather told me that you said, 'She's your friend, why don't you go?'"
"I'm sorry, I am," Meghan cried, blaming the tears on her hormones. "I wish I could turn back time. . .but I don't want to dwell on this. I'm sorry that I let you down. I truly, from the bottom of my heart, am sorry."
MORE ON:
Meghan King Edmonds
Article continues below advertisement
Watch the Video on RadarOnline.com:
In the end, the pair hugged it out. But on the other side of town, Shannon's attempt to get back into Heather and Tamra's good graces was off to a rocky start.
"You're good friends with Meghan, don't let this come between you," she said in defense of Edmonds. "I don't think she understood."
"Are you mad because Vicki is now the victim?" Tamra cut in.
"Are you kidding me?!" Shannon exploded in confessional, reminding cameras that Vicki sent her injury photos around to friends in an attention-seeking manner.
The next day, for the final round of girl fights, Heather and Meghan sat down and quickly got into the "I heard you're mad at me" talk, which ended with an apology from Edmonds — surprisingly.
But during confessional, she had the final say: "I do not regret revoking Heather's badge as the morality police."
Find out what happens next on the Real Housewives of Orange County, Monday at 9 p.m. ET on Bravo.