Exclusive
Jacko Bombshell: Michael's Secret 'Son' Emerges, Claims Will Is Invalid!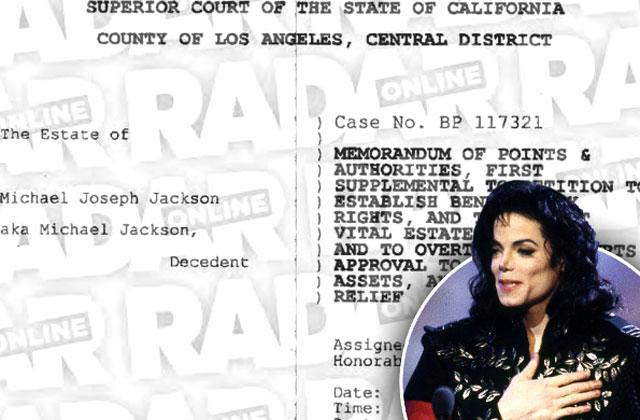 Michael Jackson had a secret "son" who deserves a cut of his millions! That's the bombshell claim of Anthony "James" Jackson II, who has filed bombshell new court documents insisting that the singer's will is invalid and executors have iced him out.
Anthony's dad, Tony Jackson, was Michael's first cousin. "When I was seven years old my father Tony passed away," Anthony writes in the court documents filed on August 14. "Soon after this, the Decedent Michael Jackson stepped in and offered to raise me as his son, as a co parent with my mother Debra Jackson." Even after Michael's own children — Prince, Paris, and Blanket — were born, Anthony says he "continued to raise me as his son."
Article continues below advertisement
READ The Bombshell Court Filing
Michael "provided for me while he was alive and intended to in the future and/or if anything ever happened to him," Anthony insists, claiming Jackson family matriarch Katherine "confirmed in December of 2010 that she knew the Decedent considered me a son and knew of his intentions in regard to providing for me."
According to Anthony, those intentions were "that I receive a living expense allowance, that all of my education would be paid for, that I would be able to purchase a home … and a vehicle, that I would receive enough funds to start my own business."
Anthony alleges that Michael "also said I was the only one he would allow to use the SONY/ATV music publishing catalogs for any of my projects, for free."
"I should have been receiving Decedent's Michael Jackson's intended inheritance for me. I request that I immediately receive it," he writes in the court documents, "and for them to be retroactive" from the singer's death date, June 25, 2009.
In the 128-page filing, Anthony lays out a complicated argument for why he has been denied what he says is rightfully his. Simply put, he claims that the will is invalid, and there is a major "conspiracy" in place.
Article continues below advertisement
"I question if this will is authentic, especially since the Decedent Michael Jackson told me and my mother Debra Jackson in 2003, the will he was forced to sign in 2002, in my presence, no longer existed," he alleges. "…I believe the will and the trust documents were never notarized and they have never been authenticated."
In addition, Anthony insists, "The executors violated my rights and proper legal procedure because I never received the notice of probate … I believe not noticing me was a tactic by the executors to gain control of the estate, because I believe they knew I would question the authenticity of the will and object to their being the executors…"
And now, that is just what he is doing, accusing the executors of "malfeasance and mismanagement of the estate."
"I believe the executors knowingly violated the trust laws," the court documents claim, further alleging that they "… exploited the estate assets for personal profit, trustee compensation."
Anthony claims that they "have systematically put the estate in financial jeopardy by making deals, purchases, sales, and/or taking out loans," and that their "excessive compensation created a conflict of interest, in that the executors needed to make deals in order to profit from the estate. I also believe the executors made unnecessary and/or bad deals for the estate."
Article continues below advertisement
Ultimately, Anthony has 73 demands for the court including the following: that he be granted the "right to question" the will, that there be an "investigation to authenticate the 2002 will," that "the court rescind any and all sales or purchases by the executors," that "the court rescind repeal and/or quash the court's approval to sell the estate's 50% share of the SONY/ATV music publishing asset," removal of the executors, a forensic audit, and that the sale of Neverland Ranch be stopped, and the loan against it be paid off from the estate.
It's not the first time that Anthony has faced off against the Jackson family in court. In December 2013, he petitioned for guardianship of Paris, Prince, and Blanket, but was denied.
Story developing.