Julia Roberts' Husband Uncovers Her Hot Nights With Owen Wilson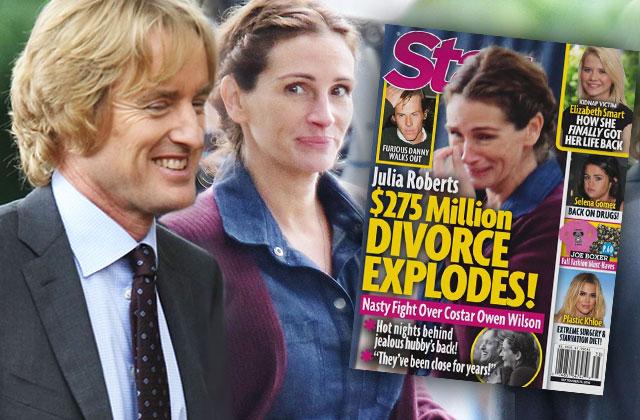 Julia Roberts and Danny Moder may be ready to pull the plug on their 14-year marriage, especially after he discovered Julia has been getting cozy with her costar, Owen Wilson. This week Star insiders reveal just how close Julia and Owen have been getting behind Danny's back, plus more shocking signs that show Danny may have already moved out. Click through the gallery to find out what other celebrity gossip you'll find in this week's issue of Star!
Article continues below advertisement
Khloe Kardashian has been showing off her unbelievable weight loss all summer, but did the Keeping Up With The Kardashians star have a little help outside the gym? Check out her extreme surgery secrets in the new issue!
Selena Gomez calling off her second tour in three years is raising a lot of eyebrows — especially since the last time she canceled a tour, she immediately entered a drug rehab facility. Even though the 24-year-old singer is blaming the cancellation on complications with Lupus, is there more to the story that she's not telling fans again?
It's been 14 years since Elizabeth Smart's infamous kidnapping, and she's finally exposing her most haunted memories. Get an inside look how she managed to recover after the horrific event.
And there's even more celebrity gossip in this week's issue of Star, so grab your copy before it's too late!