Jim Carrey's Late Lover Reveals Actor's Dark Secrets In Shocking Video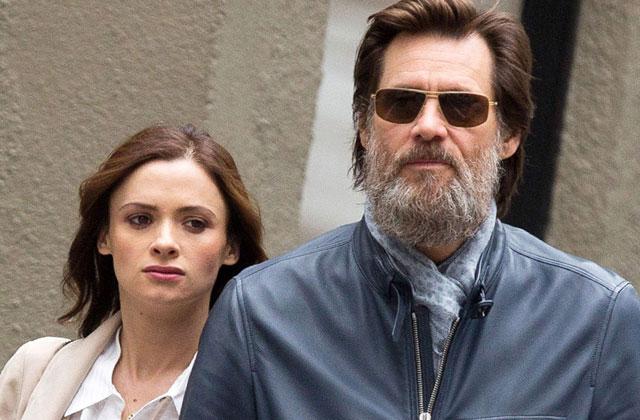 A blockbuster secret video of Jim Carrey's tragic ex-girlfriend telling all about his twisted double life has emerged as a critical piece of evidence in an ugly wrongful death lawsuit.
The video — viewed by RadarOnline.com — paints the Liar, Liar star as a depressed, drug crazed, orgy indulging lothario who gave his lover, Cathriona White, multiple sexually transmitted diseases!
Cathriona, 30, took a fatal overdose of pills in Sept. 2015 — a cocktail of drugs supplied to her by Carrey who obtained them using the fake name Arthur King, according to a lawsuit filed by the woman's estranged husband Mark Burton.
Article continues below advertisement
Burton has sued Carrey, 54, claiming he tried to cover up his "complicity in Cathriona's death" after the fact with a "bogus text message" in which he pretended that "he had misplaced the drugs."
But in secretly recorded conversations with a close friend, Irish-born Cathriona admitted her marriage to Burton was one of convenience to allow her to live in the United States, RadarOnline.com has learned.
"He's like my friend for years," she said. "He said, 'I'm sick of you being in this situation' without immigration eligibility so I'm going to help you.' We were in Vegas and we went and got married. Then he dropped me at the bus station."
Cathriona's confession from beyond the grave would seem to support Carrey whose lawyer blasted the lawsuit as an "outlandish shakedown."
"My client will not pay money to end this opportunist's transparent shakedown lawsuit," attorney Martin Singer told RadarOnline.com.
"Mr. Carrey has suffered a great deal in the last year with the suicide of the woman he dearly loved, and it is outrageous that he should be subjected to this predatory lawsuit."
Article continues below advertisement
Stunningly, Burton also alleged Carrey gave Cathriona multiple sexual transmitted diseases, including herpes and gonorrhea!
In a undated letter intended for Carrey, Cathriona confessed she was "disrespected, degraded" and "called a whore" after the actor refused to own up to passing on the diseases.
"I wanted an apology, to be acknowledged and to respected enough to take responsibility," the makeup artist allegedly scrawled.
While the video could save Carrey in the lawsuit, it has also unmasked the true depravity of the comic, RadarOnline.com has learned.
In the video, Cathriona described Carrey's off-the-wall behavior and cocaine use — a drug she called "sugar."
"He roller-coasters a lot. . .over Christmas I guess sugar f***ed him up," she said. "It really f***s with him, makes him really depressed.
"Then he started smoking pot, and then he kept eating more sugar, and then he was just like having these breakdowns, like meltdowns."
She concluded: "It's like 50 shades of grey, 50 f***ing million shades of Jim — and I'm 50 f***ing million shades of f***ed up because of it!"
UPDATE:
A source close to Carrey told RadarOnline.com that the "sugar" referred to was not drugs, but in fact actual sugar.
We pay for juicy info! Do you have a story for RadarOnline.com? Email us at tips@radaronline.com, or call us at 800-344-9598 any time, day or night.