Exclusive
Another Family Heartbreak! Jennifer Aniston At Odds With Dying Father Over Grandchildren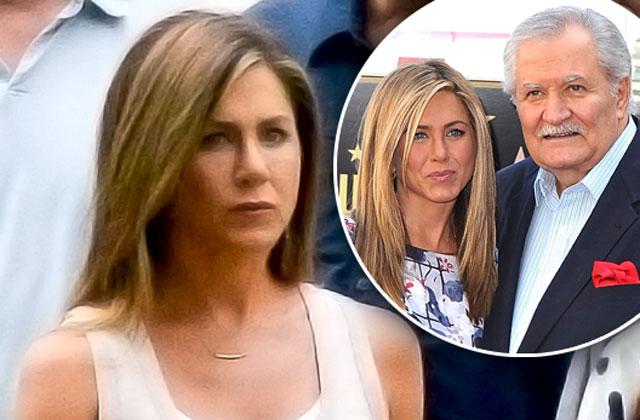 Jennifer Aniston had a tumultuous relationship with her late mother Nancy Dow, and now RadarOnline.com can exclusively reveal the actress is currently at odds with her ailing father!
Jennifer, 47, has broken her father's heart by not giving him a grandchild, family insiders tell Radar.
"John has been on pins and needles for Jen to announce she is pregnant ever since she married Brad Pitt in 2000," an insider said. "But when they divorced five years later without having kids, those dreams were dashed."
Article continues below advertisement
But marrying her current husband Justin Theroux didn't make the Days of our Lives star's dream come true.
"It took Jen a decade to find another Mr. Right — her current husband, Justin Theroux — and now she fears she's probably too old to conceive."
The insider revealed that although her chances of conceiving naturally will be difficult, she is reluctant to take the fertility/in vitro route.
"There were times Jen thought about adopting like her good friend Sheryl Crow, who adopted two boys," the source said. "But because she's been working on one project after another, there just hasn't been time to make that happen."
The former Friends star revealed in an interview that children might not be in her future.
"I don't have this sort of checklist of things that have to be done," she said. "I've birthed a lot of things, and I feel like I've mothered many things."
Although the actor is grandfather to his son Alex's 1-year-old son and infant daughter with girlfriend Adriane Hallek, Jen's younger half-brother isn't in close contact with their father.
The insider added, "John's only hope of being a hands-on granddad was if Jen had a child."