Exclusive
Homewrecker? Dennis Quaid's New Flame 'Has Given Up Her Family' For Love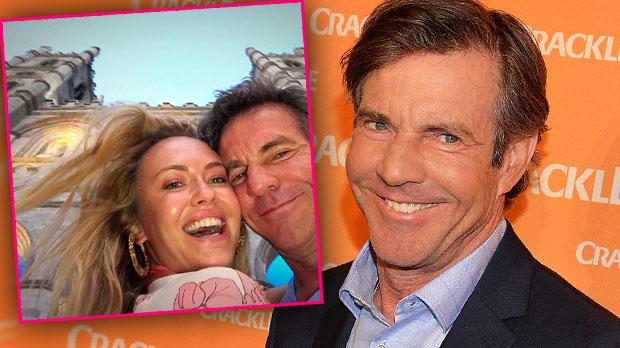 Dennis Quaid has been spotted squiring beautiful blonde model Santa Auzina around Montreal — but RadarOnline.com has learned both the actor and his stunning new girlfriend's marriages may have imploded around the same time.
Quaid's wife, Kimberly, 45, filed to put an end to their 12-year marriage in Los Angeles on June 28. Little more than two weeks later, Quaid was pictured in a swanky Montreal nightclub cuddling with Auzina.
Article continues below advertisement
Auzina has since posted numerous shots to Instagram of her and Quaid enjoying each other's company throughout the Canadian city, where he films his show The Art of More.
Along with the timing, the difference in their ages — he's 62, she's 30 — and the fact that Auzina was calling Quaid her "love" and "soul mate" barely six weeks into their relationship has raised some eyebrows.
Now RadarOnline.com can reveal yet another shocking plot twist: Auzina has been married to a handsome Ecuadorian businessman, Alejandro Jimenez — and may still have been when she first met Quaid!
Shortly after photos of Auzina and Quad surfaced, a source claimed, "Dennis stole Santa away from her husband and babies! They were together until recently and now she has given up her family to be with a 62-year-old!"
RadarOnline.com has also learned that Auzina and Jimenez have two young daughters together.
Just as shocking, social media shows Auzina and Jimenez seemed happy in the days leading up to her frolicking around town with Quaid.
In June, Jimenez posted photos of the two, including one of he and Auzina romping in the surf. And on June 28, the day Kimberly filed for divorce from Quaid, Auzina gushed on Facebook about her "beautiful life" with Jimenez.
When RadarOnline.com contacted Jimenez and asked about the status of his marriage with Auzina, he replied: "I just live my life. That's hard enough as a single dad with two kids."
Before the most recent divorce filing, Quaid and his ex, Kimberly, split twice — each filed for divorce at different times in 2012 — but they eventually made up on both occasions.