Exclusive
Andy Griffith Death Cover-Up! Asbestos KILLED TV Legend, Top Secret Report Reveals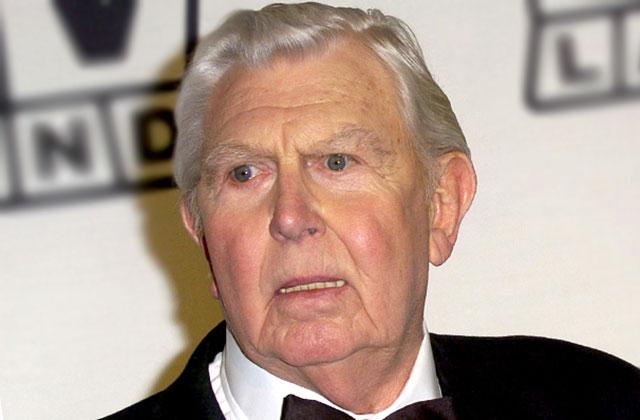 Beloved TV icon Andy Griffith didn't die of natural causes — he was slowly poisoned to death, RadarOnline.com has exclusively discovered.
His widow Cynthia's rush to bury him on the grounds of their North Carolina home — without an autopsy and just hours following his passing — prevented the real reasons behind his sudden demise from being revealed!
Although Cynthia was acting according to her 86-year-old husband's wishes, the bizarre burial was so hurried his own daughter Dixie Nann Griffith was unable to get there in time from her Colorado home.
Article continues below advertisement
Now, in a bombshell exclusive, the truth can be told.
RadarOnline.com has obtained a shocking document — an inspection report — that reveals the home he shared with his first wife Barbara and their adopted kids Dixie and Sam was riddled with toxic asbestos, and Griffith likely died from the poison.
"Andy's death is such a mystery. It was so strange. I always felt that there was more to the story," said the insider.
The report also likely explains the agonizing "mystery illness" that suddenly struck Griffith decades before, which was then diagnosed as an inflammation of his nerves.
"My illness was strange. As I got better, the symptoms of influenza were replaced by terrible searing pain that ricocheted through my entire body," Griffith once explained.
Following his sudden death on July 3, 2012, medical experts concluded The Andy Griffith Show actor died of a heart attack.
Article continues below advertisement
But RadarOnline.com's discovery of the official asbestos inspection report for the house demands his death be reopened and fully investigated.
Carried out by Jerry L. Boyce of Boyce Consultant Services in North Carolina, the licensed asbestos inspector analyzed 11 samples and five tested positive for chrysotile asbestos.
On March 26, 2013, Boyce delivered his findings to Cynthia and demolition contractor Calvin Gibbs, stating that he found asbestos in the linoleum in the pantry of the house, in the floor tile in a bedroom closet and in the floor tile of an old master bedroom.
According to the American Cancer Society, asbestos poisoning causes lung cancer and pleural mesothelioma.
A person can become sick if they "inhale asbestos fibers in the air" while something is installed or demolished.
In the late 1980s, the actor known for his folksy role on TV as Sheriff Andy Taylor, was described as a hotheaded boozer by his co-workers on the sitcom.
He was forced to calm down when he fell ill with a "mystery illness" that triggered flu-like symptoms and a horrible cough, which baffled doctors.
Article continues below advertisement
He was later diagnosed with Guillain-Barré syndrome, a rare form of nerve inflammation — caused by an allergic reaction to a viral infection
like the flu. But the strange diagnosis only prompted more questions.
Meanwhile, just a year after his passing, Cynthia, his wife of 29 years, angered locals in Manteo when she obtained a demolition permit to rip down the small (asbestos-riddled) house he'd shared with Barbara. Sources say he had talked about turning it into a museum.
Added a source, "Andy's loved ones knew that something was wrong. Maybe the real reason Andy wanted to be buried so quickly was because he was ashamed he exposed his family to the same poison that was killing him."
We pay for juicy info! Do you have a story for RadarOnline.com? Email us at tips@radaronline.com, or call us at 800-344-9598 any time, day or night.