Heather Unleashed! Dubrow Exposes Truth On Her House Of Horrors & 'RHOC' Feuds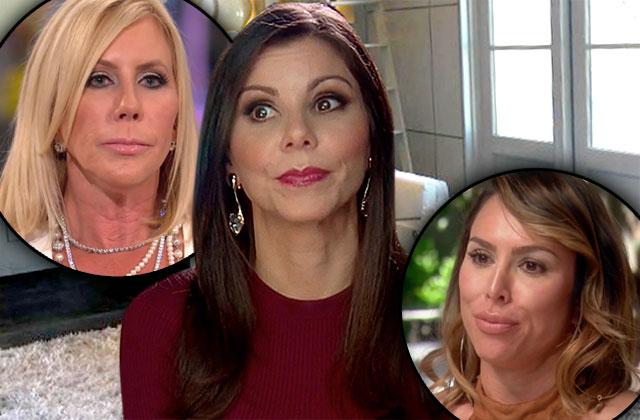 From her house of horrors to her nasty costars, Heather Dubrow can't catch a break!
The Real Housewives of Orange County star, 47, revealed to All About The Real Housewives that her dream mansion is far from being completed — and she's still at war with her fellow cast members!
"We've been in the house about 2 months now and it's been incredible," she said, noting that she's living in a construction zone.
Article continues below advertisement
"There's still 50 guys in there working so even though we're in, it's still not finished," she confessed.
"Here's the thing — It's not 500 rooms," she explained. "It's your normal rooms but they are just bigger. I know it may seem excessive to some but in the neighborhood that we built in these are the sizes of the houses that you see."
And as for her "champagne doorbell" — it doesn't lead to anywhere!
"I put it in my closet and when you press it, it will ring in the kitchen," she revealed. "Terry was asking who was going to bring the champagne and I suggested he do it!"
But, she added that Housewives fans won't be seeing her home anytime soon as RadarOnline.com previously reported that the incomplete home was infested with mice.
Then, the Botched: Post OP host revealed that she's still at war with Kelly Dodd and Vicki Gunvalson!
Article continues below advertisement
"I mean clearly she's been great for the show," she said of the volatile Dodd. "There's a lot of drama that people like and the ratings are very good. In that respect – she's great for the show. Personally I don't see her being someone long term that functions with this group but, who knows?"
"It's vile, vulgar and unacceptable," she said of Dodd's extreme behavior. "When I was crying in the car on the way home a lot of people thought it was fake. Trust me, if I wanted to fake cry it would have been a lot cuter than that."
"There is a lot more to it than that and you'll hear about it at the reunion," she added. "Some of it was that, but also the fact that it was a family restaurant and the walls were paper thin. I had other friends in the restaurant as well. The 70's party was so disgusting and this just pushed it over the edge. Judge me as you may but this was my visceral reaction."
"With Kelly, I feel that Vicki needed a friend after season 10 as she was on the outs with everyone," she concluded of Dodd quickly teaming up with veteran Vicki Gunvalson. "Although we were still in contact, relationships really shifted after the whole Brooks thing. Vicki got close with Kelly as she needed a friend and why Kelly got close with Vicki – I think that's for the audience to decide. It will probably come up at the reunion."
Article continues below advertisement
"Vicki and I were always in contact throughout the whole thing," she said of her epic feud with Gunvalson over cancer-liar Brooks Ayers. "Even if we were not happy with each other we would still talk. On my podcast last year, Shannon, Tamra and I discussed filming with her again and of course you say things when you're upset. However, I wanted Vicki to come back. She's a big part of this show and I felt that she should have a chance to come back and redeem herself. As far as forgiving and forgetting, I got to a point where I didn't want to be the judge and jury. If she was in on it and if she knew then God and karma will handle her – I don't have to."
"One of the reasons I was so angry last year was because Terry got involved," she explained. "She said he sent over a doctor and all of a sudden it was affecting my life. I've chosen to move on. I chose to accept the apology that she either can't or couldn't give."
Are you shocked by Dubrow's confessions? Tell us in the comments!