Exclusive
Inside Gymnast Simone Biles' Tragic Early Days: Bio Mom Arrested For Stealing Baby Formula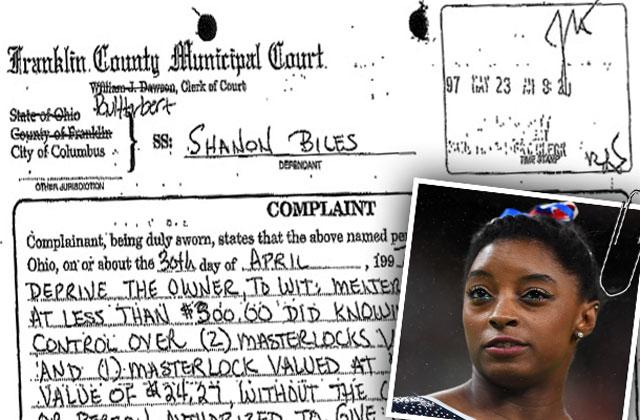 As the shoo-in to win the gold medal tonight at the Olympic women's gymnastics all-around competition, Simone Biles has truly triumphed over tragedy.
America's new sweetheart, just 19, lived a tortured life with her drug and alcohol-addled biological mother before her maternal grandparents adopted her as a toddler.
After being arrested at least five times during her pregnancy with the future superstar, the troubled Shanon Biles was caught stealing clothes and even baby formula during Simone's earliest days, RadarOnline.com can exclusively reveal.
Article continues below advertisement
According to Ohio's Franklin County Municipal Court documents exclusively obtained by RadarOnline.com, the now 44-year-old was arrested for the theft of $24 worth of locks when Simone was just one month old.
READ THE SHOCKING COURT DOCUMENTS
Just four months later, Shanon was arrested again for stealing two pairs of Fila shoes at J.C. Penney.
The following June, she was handcuffed for stealing at Lowe's hardware store.
She plead guilty to the three crimes in a deal, was sentenced to 120 days in jail, and ordered to stay away from the involved shops.
But on March 6, 2000, just days before Simone's 3rd birthday, the troubled mom was arrested for stealing 10 cases of baby formula at a local Target. (She was sentenced to 12 days in jail). A few months later, she was arrested again for the same crime, and sentenced to 180 days in jail.
Article continues below advertisement
According to reports, Simone and her younger sister, Adria, were adopted by their grandparents, Ron and Nellie Biles, around this time.
As RadarOnline.com previously reported, Shanon has been arrested at least 20 times over the past 20 years for charges including assault, theft, drug paraphernalia possession and driving under the influence.
She recently spoke out against Ron and Nellie for calling her a drug addict in interviews.
I feel like they're defaming my character," Shanon seethed in a video message. "I was struggling back then but I've gotten better. . .He didn't have to be so harsh about it. He could've been a little bit more classy with it. He didn't have to put me under the bus."