Exclusive
Larry King's Serial Cheating Wife CAUGHT In NEW Affair With Playboy Lover!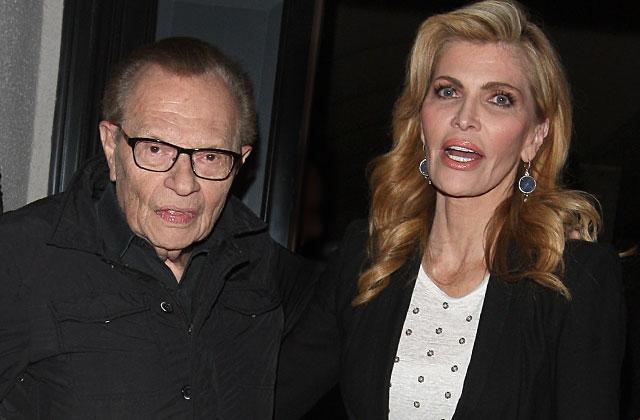 Larry King's love-starved wife is cheating on the octogenarian — again — and swore to her playboy paramour her 19-year marriage is dead!
Lusty Shawn King exchanged sexts, nude photos and sleazy video chats with the man, who was once a top confidante to Britain's tragic Princess Diana, RadarOnline.com has learned.
In its latest issue, The National ENQUIRER — out Wednesday — has obtained proof the 57-year-old leggy blonde also enjoyed steamy afternoon sex sessions with her sweetie on the side.
Article continues below advertisement
Shawn even flaunted her much younger boy toy in front of her suspicious 82-year-old husband,!
Shockingly, until just recently, the former TV and movie actress Shawn was trying to desperately arrange a passionate hook-up with her lover via Facebook sex messages.
In a series of stunning excerpts from their illicit communications provided to Radar, it can be revealed:
Shawn confessed her now sexless marriage — which produced sons, Chance, 17, and Cannon, 16 — is over.
As her lover encouraged her to stay with Larry, she declared in a May text: "It's too little too late. And we still live totally separate lives … He knows deep down inside he'll never have me fully again."
Shawn texted the man a picture in July showing her seductively exposing a breast, then followed up with a second shot of her posing with Larry, her lover and another woman at the studio, and noted: "A little more conservative."
In another May text exchange, Shawn expressed concern her husband was getting suspicious about their yearlong fling. She wrote: "Larry made another joke about me having an affair last night … He senses a shift in me."
Her lover once jokingly dubbed a steamy hook-up as a "Sleep with a King" audition in an apparent jab at the aging former CNN legend. In a racy text exchange, he bragged: "I have a large p---s." Shawn replied: "Really? Well, we'll begin fittings in the afternoon."
Smitten Shawn knew her lover was having sex with other women — and after a break-up she agreed to take back the smooth-talking Romeo "non-exclusive or even exclusively."
During their brief split, Shawn asked that he "delete our private photos and videos," The ENQUIRER reported in its latest issue.
This is the second time Shawn has been caught red-handed with her pants down behind the back of iconic newshound Larry — who has been married eight times to seven women.
In 2010, Larry filed for divorce after Shawn had an affair with their sons' baseball coach. Larry was accused of having an affair with Shawn's younger sister, Shannon Engemann.
Shawn has been prepping her lover to become the next "Larry King" — and arranged for him to appear on her husband's talk show and "trying to set up his career to take over when Larry dies," a source told Radar.