Kardashian Feud Explodes! Rob Slams 'Unsupportive, Disgusting Family'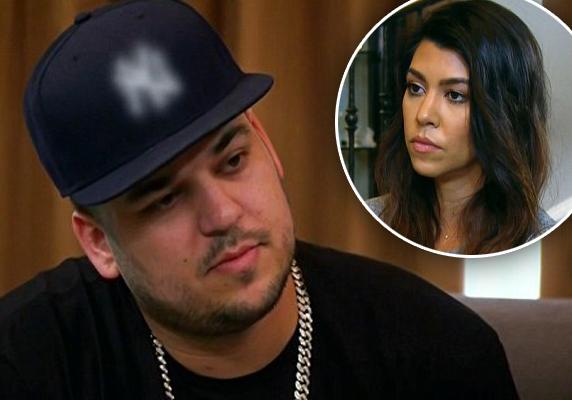 Don't kross Kourtney!
On last night's episode of Keeping Up with the Kardashians, family black sheep Rob finally pissed off his #1 supporter, oldest sister Kourtney — and it wasn't pretty.
When Rob's pregnant fiancee, Blac Chyna, released her Chymoji set of Emojis, just like former BFF Kim before her, Kourtney was shocked when one appeared to be a picture of Chyna slapping her nemesis, Kylie Jenner.
"Just when everyone was trying to be really accepting and welcoming Chyna into the family, this comes out," fumed Kourtney, normally the family peacekeeper. "It sent me over the edge!"
Article continues below advertisement
In a conversation with Khloe and makeup artist Mario, Kourtney said she had a blowout phone fight with Rob about Chyna's offensive Emoji.
Rob denied the Emoji was of Kylie, and slammed his big sister.
"He's like, 'I'm going to go on the red carpet tonight and tell everyone that I have the worst, most unsupportive, disgusting family,'" Kourtney recalled. "I think it's stupid to take it there."
Khloe also schemed to clap back at Chyna's diss by offering to post "subliminal" tweets.
Oddly enough, the person at the middle of the controversy, Kylie herself, wasn't offended by the Emoji in question.
"I've talked to Chyna, and I really don't think the emojis are of me," she insisted to the cameras, taking Rob's side. "It's time for everyone to just be happy for him."
Kim eventually encouraged Kourtney to make peace with Rob.
"I should have asked Rob what was going on instead of getting so angry," Kourtney admitted. "I'm hoping he wants to make it a peaceful situation as well."
Article continues below advertisement
Kim facilitated a phone conversation between the warring siblings, and peace was soon restored.
In other drama, Khloe became frustrated with troubled ex-husband's return to the party lifestyle just months after his near fatal drug overdose in a Las Vegas brothel.
"Lamar is hanging out with bad guys again," she sighed. "It saddens me...I know Lamar wants better..he just can't help it."
"I thought he was really going to change, but this is Lamar."