'Stay Out Of My Life!' LuAnn Blasts Bethenny For Exposing Cheating Fiancé Tom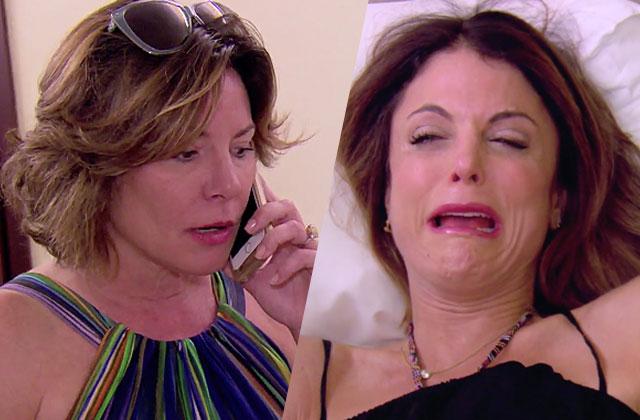 The bomb has dropped; the message has officially been delivered; the D'Agostino has hit the fan!
On the finale of The Real Housewives of New York City, Bethenny Frankel is "shattered" to be delivering such terrible news to LuAnn de Lesseps. According to a text that Frankel received, Tom "The Tom Cat" D'Agostino was spotted (by Gossip Girl) making out at The Regency Hotel with a mystery brunette.
"I feel like somebody stabbed me in the chest!" de Lesseps cries.
Article continues below advertisement
Frankel starts crying Skinnygirl tears and feigning hysteria while The Countess can't sit still. She's running from hotel room to hotel room while Frankel is crying under a duvet waiting for the camera to come back her way.
"Do you know that I don't want to be doing this right now?" Frankel asks as de Lesseps demands to see the photo. "If you're a friend you're going to show me the photo."
De Lesseps then runs into the other room where Jules Wainstein and Dorinda Medley are waiting to give some blind support.
"Even if it is true I think it could have been done in a quieter gentler matter." Medley says, stirring up some anger in The Countess.
"You don't even know when this was taken. This could have been last year." Wainstein suggests. After all, she knows a thing or two about denial.
In the other room, Frankel is flanked by Carole Radziwill, Ramona Singer, and Sonja Morgan.
"He's a dirt bag. Do you think I wanted to read page six and see my husband with another bitch? Nobody told me. At least you prepared her," Singer is brought to tears.
Article continues below advertisement
Frankel says, "Give me a drink. I need alcohol!" A brand new bottle of Skinnygirl vodka is pushed into her hand and she chugs it, making sure the label is facing out. "Men are f*cking animals."
It doesn't take long before the Countess begins to dig her head in the sand. She questions the timing. She starts making excuses. "He must have been wasted," she repeats like a mantra, and, "I'm not going to let a kiss ruin my marriage that's for sure."
When she finally reaches him on the phone, she barely goes through the motions of being angry at him. "You have no recollection? What do you mean you don't remember? The whole town knows now."
It's apparent that not only is she unsurprised, she already knows she's going to push this whole incident under the Vera Wang gown.
Between Frankel's histrionics and de Lesseps' Montessori School disciplinary tactics, the only woman who made any sense this whole finale episode was Ramona Singer. Singer, known for being "Ramotional," was incredibly reasonable in her responses. Singer's husband of 25 years, Mario, was very publicly caught cheating and she supported Frankel telling the truth, saying: "You prepared her." She had a practical take: "If he did this now it's going to happen again and again." She was supportive: "I think she can do a lot better." She cautioned de Lesseps gently: "I just think maybe you don't know this guy so well."
Article continues below advertisement
Who needs Dorinda Medley's slurred advice and meddling when Ramona Singer can be setting us straight in half the time?
Then, the Housewives return from their Miami trip and gear up for Bethenny Frankel's Fiesta party. In the meantime, the Notorious D'Ag and de Lesseps tried to convince Dorinda Medley to be involved in a cover-up. D'Ag return to the scene of the crime, The Regency Hotel, with his fiancée and, where they plan on having Medley talk to some waiters and do what she does best: go around and tell everyone about how the D'Ag wasn't doing anything.
Allegedly, Tom told Medley, "If you don't do it you're not coming to the wedding and you're not friends with Luann."
The plan backfired because they failed to realize that Medley, in true form, was going to tell everyone about their plan and that's exactly what she did.
"I'm wondering now if I've become the devil now?" Frankel asks rhetorically. It's almost as if she's reflecting on the whole season, or her own deep rooted self-esteem issues, but actually she's expecting the de Lesseps has turned on her. Frankel, fittingly, has become the villain in revealing the scandal. "I'm not surprised that Luann is back together with Tom because Luann doesn't have a lot of self-respect." This coming from someone who "genuinely felt bad."
Article continues below advertisement
At Frankel's Fiesta Party, we see Jon Mahdessian make nice with Frankel, we see Jules pretend to be a bull and her husband the Matador as they mime their discontent before their marriage publicly crumbles. Wainstein is confronted by Frankel and she quickly blames it all on Medley. Perhaps she was scared Frankel might have some other photos to share.
Finally, de Lesseps and Frankel confront each other. "Stay out of my life," de Lesseps warns Frankel.
"Fine, if I see him f*cking someone in the street I won't tell you," Frankel snaps back.
"Who doesn't make mistakes?" de Lesseps asks the camera. She may not have her self-respect, but she still has her 8 carat Canary yellow diamond on. It's good thing too because she leaves Frankel's Fiesta Party before they pop a jewelry filled piñata.