Exclusive
Meghan King Edmonds' Fertility Specialist Once Arrested For DUI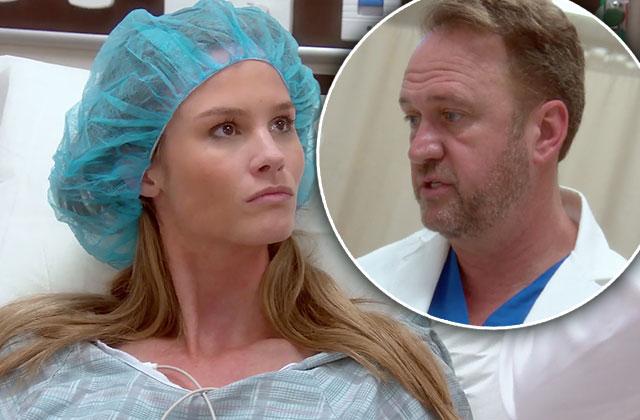 Meghan King Edmonds has enough to worry about with her marital problems taking over her pregnancy joy, but The Housewives of Orange County star now has another issue to add to the list! RadarOnline.com can exclusively reveal her fertility specialist, Dr. Daniel Potter, was arrested for a DUI.
According to an arrest report obtained from the Laguna Beach Police Department, Dr. Potter was charged with driving under the influence on December 19, 2003. He was released on $2,5000 bail.
Article continues below advertisement
Dr. Potter was pulled over by police for driving 62mph in a 40mph speed zone.
READ THE SHOCKING ARREST REPORT!
"I asked him if he knew why I had stopped him and he told me he was speeding," the police report read. "While I was talking to Potter, I could smell the moderate odor of an alcoholic beverage emitting from the interior of the vehicle."
When the officer conducted a lateral gaze nystagmus test on his eyes, they had "irregular tracking, which would indicate alcohol consumption."
Dr. Potter, who had two passengers in the vehicle with him, refused to complete any other field sobriety tests. When asked to recite the alphabet, he explained how he would only do it if he could sing it.
"It was apparent to me that Potter wasn't going to cooperate and take any of the tests," he wrote. "I then placed Potter under arrest for the listed charge. I advised him of the required chemical test and he eventually chose the blood test after taking time to think about it."
MORE ON:
Meghan King Edmonds
Article continues below advertisement
But he then refused to take a blood test until he spoke with a doctor to discuss an unlisted condition.
"It was apparent to the doctor and me as well, that Potter was stalling for time in hopes that his blood alcohol would fall below the .08 level."
He pled not guilty to driving under the influence of alcohol or drugs, and driving with a blood alcohol level 0.08% or more. He pled guilty to reckless driving.
He received three years probation, $200 in fines and was ordered to complete a 12-hour drug alcohol and drug program. He was also forced to complete 24 hours of community service.
The doctor drama comes after Edmonds confessed her marital issues throughout her pregnancy.
"I was really disappointed in Jimmy's lack of sentiment throughout my IVF process," she wrote on her Bravo blog. "And honestly, there were moments I was questioning if getting pregnant was even the right choice. Now that I am pregnant, he is so happy and excited for our baby girl to come, but at the same time I still think he's removed."
Should Edmonds be concerned about her doctor's dark past? Tell us in the comments.