'Teen Mom' Fakery Exposed! Maci Bookout Busted STAGING Pregnancy Test Scene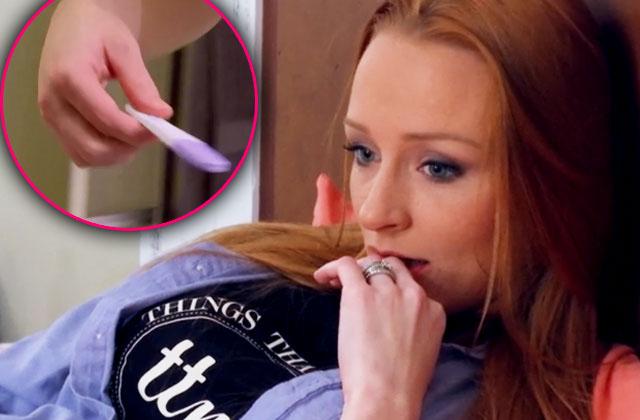 Outraged fans have accused Maci Bookout of faking the scene where she learns of her pregnancy. Despite her baby daddy Taylor McKinney denying the allegations, RadarOnline.com can exclusively reveal the scene was staged!
During the season premiere, Bookout complained to her fiancé about her drastic weight gain. That's when he advised her to take a pregnancy test.
"No way," she said when the test read positive. "Oh, that's real positive. Oh my God."
Article continues below advertisement
But fans weren't fooled, as Bookout was called out for having an obvious baby bump throughout the episode.
"I love Maci but she is so noticeably pregnant at her engagement shoot… how could she not know?" a fan asked, as another fired, "Maci and Taylor gotta be some of the worst reality TV actors ever."
Although McKinney denied that they faked the scene by responding, "We're actors? They forgot my script and I never got a trailer. Somebody getting fired," RadarOnline can reveal the scene was in fact staged!
In February, Bookout told Us Weekly that she found out about her third pregnancy at the doctor, not at home with McKinney.
"I was at the doctor, ironically, to get my birth control prescription refilled," she said, revealing her doctor told her she was already pregnant. "I laughed at her! I mean, she's the doctor that delivered Jayde, so I was like, 'Ha ha, that's a funny joke — but it's not really that funny!' And she was like, 'No, seriously!' And I was like, 'Oh, OK — well, give me 10 minutes to not freak out … You're wrong. You've got the wrong results, you mixed them up.' But no, she was serious!"