Luann de Lesseps Rips Frankel For Exposing Fiancé's Cheating Bombshell On Camera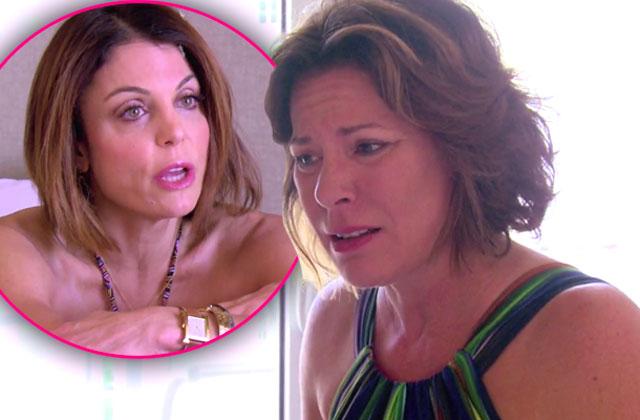 LuAnn de Lesseps is taking her anger out on Bethenny Frankel instead of her cheating fiancé! The Real Housewives of New York star bashed Frankel for exposing her future husband's infidelity in front of cameras.
On last night's RHONY, Frankel revealed she has photos of Tom D'Agostino kissing another woman the day before their engagement party.
"Her motivations are questionable to me at this point," de Lesseps said in her Bravo blog. "Was I hurt when I found out that she had a photo of Tom and a girl at the Regency? Yes I was. I was devastated to the point of not knowing what to do next."
Article continues below advertisement
De Lesseps then blamed Frankel's drawn-out divorce to ex-husband Jason Hoppy for her behavior.
"I think that Bethenny is bitter over her divorce, and it's hard for her to see that some marriages, even though they end, were meant to happen and to be appreciated," she said. "I hope that she gets to this point in her life for her daughter's sake."
But The Countess' tirade didn't end there, as she turned to Twitter to continue bashing the Skinnygirl founder for exposing the bombshell in front of cameras.
"Of course friend sic would have told me privately," she tweeted during the episode. "What was the real motivation?"
Frankel even came under fire from de Lesseps for telling Ramona Singer and Carole Radziwill before her, as she asked followers, "If you are a friend and concerned why would you tell other girls first so they could revel?"
Radar was the first to break the cheating scandal.
"Bethenny told everyone that she got a video of Tom kissing another woman behind LuAnn's back," an insider told Radar in July. "Luann was shocked and heartbroken, but she decided to stay with him."
D'Agostino admitted to Radar that they had "one misunderstanding" that lead to actions he "deeply regrets."
He confessed, "What is important, is that we were able to work through it. We are strong than ever."
Do you think de Lesseps should be angry with Frankel? Tell us in the comments!