Exclusive
Vicious New Feud Erupts Between Kim Kardashian & Taylor Swift!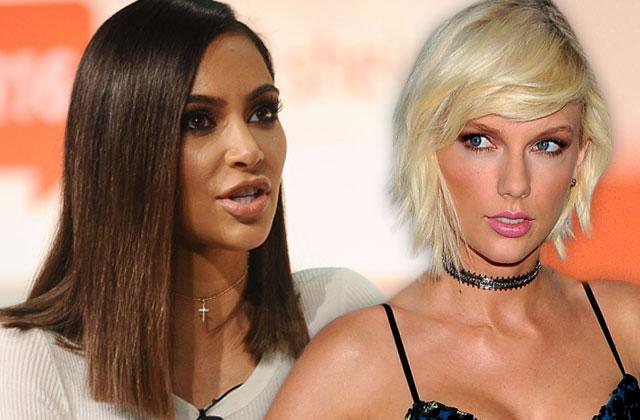 RadarOnline.com has learned a bitter new fight has erupted between Kim Kardashian and Taylor Swift — and it's all over who will appear on the cover of Vogue!
Unfortunately for Kardashian, 35, the magazine's famed editrix, Anna Wintour, "has gone cool on Kimye after his tasteless 'Famous' video, but she's reluctant to close the door on the couple because their Vogue cover was one of their biggest-selling issues in history," an insider explained to RadarOnline.com.
Article continues below advertisement
Even Wintour's film producer daughter, Katherine "Bee" Shaffer, 29, has jumped into the fray, and she and her mother "are struggling to decide on who's side to take" in the "ultimate popularity contest."
Shaffer is arguing that 26-year-old Taylor has always been a "solid" cover star for the publication, noted the insider.
Now "the race is on for Taylor and Kim to win favor with Anna and they're neck and neck," added the insider.
Wintour, 66, has decided that her best course of action is to just sit back and see how the Swift-Kardashian standoff pans out before making her final decision.
"We will see whose side Anna and Bee land on based on which of the two women they are willing to feature on the cover next," said the insider.
"Even though they just had Taylor on the cover it's going to be one of those things where Anna can let her support be known in the most passive aggressive way possible — which is exactly how she likes it."