Kailyn Lowry Rips Ex Javi Marroquin For Getting Matching Tattoos With Another Woman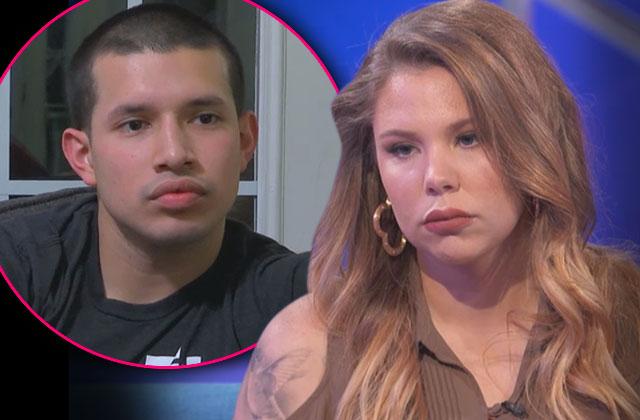 Kailyn Lowry remained silent after her estranged husband Javi Marroquin admitted to dating another woman, but his latest attempt at moving on has put the Teen Mom 2 star over the edge! Lowry slammed Marroquin after he got matching tattoos with another woman.
Marroquin, who returned from a 7-month Air Force deployment in early August, revealed he got matching tattoos with "best friends" Christina "Peach" Pietrobon and Kimberly Rene.
Article continues below advertisement
When a fan asked why Marroquin, 24, never dated Pietrobon he responded, "Cause she's my best friend that's weird haha."
That's when an outraged Lowry wrote, "But they did date in high school." Marroquin responded to her dig, "No we didn't. Don't start on Twitter. Cause we all can…"
But Lowry, 24, didn't stop there, as she then slammed her former best friend Pietrobon for threatening to reveal the "real reason they aren't together anymore."
"Please just stop commenting on my marriage and me in general," Lowry tweeted at her enemy. "It's not for you to discuss & it's not for Twitter at all."
In July, a source close to Lowry exclusively told RadarOnline.com that Peach was a "driving force" in Marroquin wanting a divorce.
"She has tried to make him choose between her and his family," the insider said. "They even hooked up in high school and she has never gotten over him."
But Pietrobon told RadarOnline.com she never tried to end the marriage.
"That's not true at all," she said. "We've never left Javi's side and never will. Javi is one of my best friends, he's more than that, he's family too. I would never make him choose between me and anything else. It's not the way friendship works."
She added, "I'm no homewrecker. Javi's my best friend. It's never been more than that."
Do you think Marroquin and Pietrobon are more than friends? Tell us in the comments!