Exclusive
Gone Too Soon — How Tragic Beauty Queen JonBenét Ramsey Would've Looked Today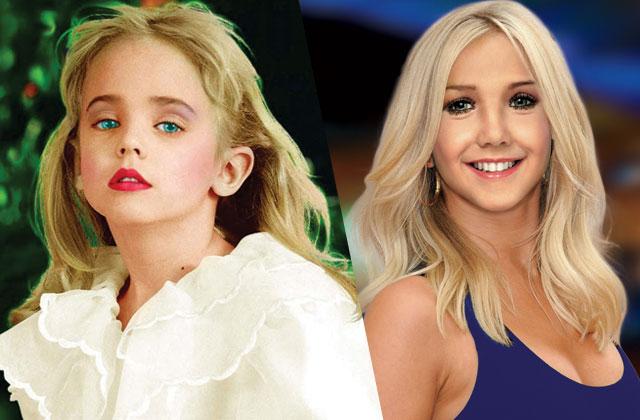 JonBenét Ramsey would be a stunning and accomplished 26-year-old woman today — had a twisted creep not snuffed out the little angel's life nearly 20 years ago!
Now RadarOnline.com has commissioned a computer artist to envision how she would have looked on her recent birthday in early August.
Tragically, the 6-year-old pageant princess was sexually abused, bashed in the head and strangled on Christmas night 1996 in her parents' home — but despite one of America's most intense investigations, police have yet to unravel the mystery.
Article continues below advertisement
"JonBenét had so much promise as a little girl," said Wendy Murphy, a former prosecuting attorney and author of the best seller And Justice for Some, which recounts the brutal murder. "By now she would have already competed in the Miss Colorado pageant and probably followed her mother's wish for her to become Miss America — and eventually Miss Universe!"
Instead, JonBenét's mom, Patsy, called 911 on Dec. 26 to report her daughter missing. Later, computer mogul dad John found her lifeless body in the basement.
Though suspicions ran high, former Boulder County District Attorney Mary Lacy in 2008 cleared the parents of any role in the slaying — two years after Patsy joined her daughter in death.
Lacy cited DNA evidence pointing to an intruder as the murderer and three other suspects have emerged.
Child molester John Mark Karr, 51, revealed in a graphic and gut-twisting secret diary — uncovered by RadarOnline.com — how his obsession with JonBenét led to her strangulation death during perverted "sex games."
Technology available at that time failed to match Karr's DNA to the evidence on JonBenét's body and he was released. Since then two other perverts have been eyed: Gary Howard Oliva, 52, confessed to a friend he had "done something horrible" and hurt a child.
Michael Helgoth also told a pal that he was responsible for JonBenét's death before he committed suicide in February 1997 at 26.