'Jealous' & 'Threatned!' Jac SLAMS Melissa After Reconciliation With Teresa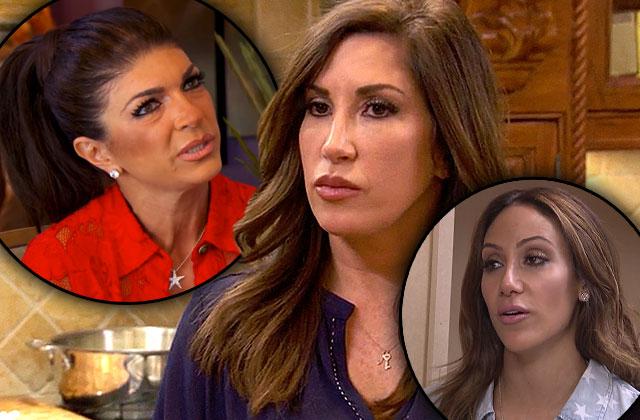 Jacqueline Laurita and Teresa Giudice may have made up on Sunday's episode of The Real Housewives of New Jersey — but their drama is far from over!
Laurita, 46, fired back at Giudice, 44, and her sister-in-law Melissa Gorga, 37, shortly after the episode aired and she learned how they really felt during their spa getaway.
"Like I said before, there is a lot of love and history between Teresa and me!" she wrote on her Bravotv.com blog. "The chemistry between us is clear and real, even though we frustrate the hell out of each other sometimes. #RollercoasterFriendship #HereWeGoAgain."
Article continues below advertisement
"That was interesting to learn that Teresa was offended by my handshake and would have preferred me to hug and/or kiss her instead," she continued. "What?! I had no idea. I'll remember that the next time I see her after we fight. Pucker up Tre, get ready for a big bear hug and smoocheroo!"
"There's something I've been noticing since the show has been airing that I didn't see before: It's the look on Melissa's face every time Teresa or I say that we are communicating and/or doing well together or when we are saying nice things about each other," she shot at Gorga.
"It's been consistent," she explained. "I think she was bothered by it. It may be where her animosity was coming from. She may have felt threatened or jealous of my friendship with Teresa."
As RadarOnline.com previously reported, Gorga claimed Laurita was the one harboring bad blood — especially after she called her husband Joe.
"Teresa's relationship with me is completely different than Teresa's relationship with Melissa," Laurita quipped. "They are family. They should always be close for the sake of their family, their parents and their kids. That goes without saying, and I respect that. My relationship with Teresa takes effort, because we are not family. We are friends that have a long history of closeness then had a falling out. Teresa and Melissa never had that closeness. They are finally just opening the doors to getting to know each other now."
Article continues below advertisement
"One relationship should not interfere with the other," she concluded. "It was never my intention to take Teresa away from Melissa. It's just a different relationship. I'm hoping that it was never Melissa's intention to come in between Teresa and me either. I was just focused on getting my friendship back on track with Teresa, not realizing that Melissa was starting to feel a little threatened by my closeness with her. The truth is, I would have loved for us all to be close. That is the way it should've/could've been. Can't we all get along?"
Do you think the ladies will ever be able to get along? Tell us in the comments!