Feud Over? Jac Laurita & Teresa Giudice Make Up During Spa Getaway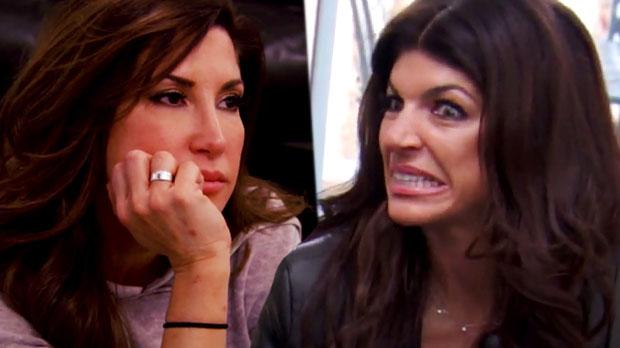 Teresa Giudice and Jacqueline Laurita are finally friends again on the latest episode of The Real Housewives of New Jersey, but it may not be lasting for long!
On the most recent episode, the ladies joined Dolores Catania, Melissa Gorga and Siggy Flicker for a girls' spa getaway — and were able to patch up their relationship for now after a rocky start.
Laurita refused to acknowledge Giudice, until her friends pressured her to say hello. Later that night, the girls made s'mores and reminisced on their trip to Italy from seasons prior.
Article continues below advertisement
The conversation quickly turned to finances — and Laurita revealed that her son Nicholas' autism treatments cost at least $60,000 per year. Gorga revealed that while she was rebuilding her house in 2008, her and Joe couldn't even afford diapers from Costco.
Giudice then addressed why she decided to stay with her husband, Joe, simply saying that she loves him.
Flicker finally confessed to being an "emotional drinker" — and sobbed throughout the conversation.
The girls decided to go to bed — but not without playing a prank on Giudice's husband. The Turning the Tables author called her husband, pretending to cry because of a huge fight.
The next morning, Laurita broke down — but not just from Giudice. The ladies were talking about their "proud mommy moments," and Laurita cried comparing Nicholas to her friends' kids. In a shocking twist, Giudice came to Laurita's side to comfort her.
Giudice followed up on her sentiment in a one-on-one spa treatment with Laurita by telling her to call her whenever she was having a bad day.
She later hinted in her confessional that she regretted not being there for Laurita in the past.
Do you think Giudice and Laurita can be friends again? Tell us in the comments.