Is She Sorry? Jac Explains Painful Truth Behind Feud With Teresa Giudice & Gorga Fam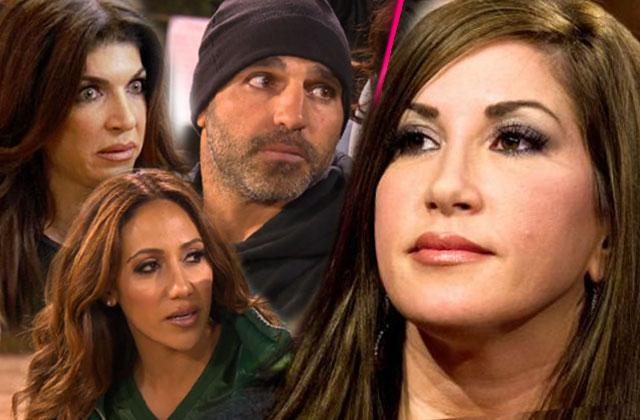 Jacqueline Laurita's feud with Teresa Giudice and Melissa Gorga exploded on the latest episode of The Real Housewives of New Jersey, but Laurita still isn't sorry for the way she acted!
"The bottom line is that in reality, Teresa was the one who brought up the past in every situation we discussed that night at my house," she reaffirmed on her Bravotv.com blog.
"I just held her accountable for her own actions in each situation," she explained. "Teresa never seems to take accountability for her own actions. It's frustrating. I may hit below the belt sometimes, but at least I hit with the truth. When you challenge me, I will challenge you back. Teresa and I share the same zodiac sign --Taurus. Two stubborn bulls! Right now, our horns are locked."
Article continues below advertisement
Laurita, 46, also revealed that she didn't feel bad about confronting Joe Gorga either, saying, "I never felt I needed to go through Melissa to talk to Joe. I felt we were all close enough friends by now that I could pick up the phone to speak to him if I needed to clear something up that he was involved in. It had nothing to do with Melissa. I didn't want to involve her. The telephone game never works."
"When I have an issue with someone, I like to go right to the source," she quipped. "That's just my way. I'm glad to know now that Joe never told Teresa not to trust me two years ago while Joe and I were friends. I don't understand why Teresa threw her brother under the bus like that. I guess by lying, Teresa was just looking to cause problems between her brother and me."
"I'm not sure why she brought her brother up unless she was purposely trying to create a wedge between him and I," she concluded. "She knew Joe and I were friends, but I guess she always tried to sway my opinion of Melissa and Joe, even before I even met them. Luckily for them, I always like to give people the benefit of doubt first and judge people by my own experiences with them and not somebody else's."
Article continues below advertisement
RadarOnline.com first detailed their epic fight last month ahead of the RHONJ premiere.
Newbie Siggy Flicker weighed in on the drama at the time, telling RadarOnline.com exclusively, "You have to remember that's a 13 year friendship. This is not kindergarten. You don't just say 'oh these two have had their highs and lows.'"
Now, the 49-year-old is weighing on again on her Bravotv.com blog.
"Some things are better left in the past and shouldn't be brought up ever again," the matchmaker wrote. "Do you know what I'm referring to? That's right, the ever-present feud between Jacqueline and Teresa. I love them both dearly and want nothing more than for the two of them to get back to the friendship they once had. However, just like with all relationships, if you harp on the past, you'll never be able to move forward."
Do you think Gorga, Laurita and Giudice will ever make up? Tell us in the comments!