Kremlin Connection? The TRUTH About Hillary's Shady Ties To Russia REVEALED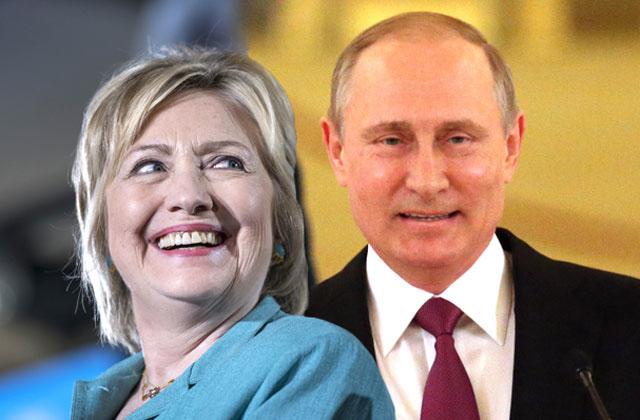 Americans have no idea just how closely Hillary Clinton is tied to the Kremlin! That's the shocking claim of a new report that alleges the Democratic nominee is secretly pals with Vladimir Putin and his countrymen.
Peter Schweizer, the author of Clinton Cash, has published a report that claims that that Clinton campaign chairman John Podesta was on the executive board of a foreign company that received $35 million from the Kremlin. "The company was a transparent Russian front, and how much Podesta was compensated — and for what — is unclear. In addition, Podesta failed to disclose his position on that board to the Federal government, as required by law," John Schindler of the Observer wrote.
Article continues below advertisement
As RadarOnline.com previously reported, when Clinton was secretary of state, she profited from the "Russian Reset," a failed attempt to improve relations between the U.S. and Russia.
Schweizer wrote, "Many of the key figures in the Skolkovo process — on both the Russian and U.S. sides — had major financial ties to the Clintons. During the Russian reset, these figures and entities provided the Clintons with tens of millions of dollars, including contributions to the Clinton Foundation, paid for speeches by Bill Clinton, or investments in small start-up companies with deep Clinton ties." Schweizer also details "Skolkovo," a Silicon Valley-like campus that both the U.S. and Russia worked on for developing biomed, space, nuclear and IT technologies. He told the New York Post that there was a "pattern that shows a high percentage of participants in Skolkovo who happen to be Clinton Foundation donors."
Skolkovo is nothing like Silicon Valley, however. It's funded mostly by the Kremlin and President Vladmir Putin has taken a vested interest in the high-tech complex, understanding that it has great value to the country's defense and security sector. Clinton had pushed American and European investment in Skolkovo, getting Cisco, Google, and Intel to join in. The three companies were coincidently Clinton Foundation investors as well.
"Hillary Clinton's ties to Russia, and to entities that are basically subsidiaries of the FSB, are deeper than those of Donald Trump and they are much less transparent," Redstate reported. Clinton was once ready to agree to a deal which would have given Russia increased power over uranium markets, for example. Despite warnings against the deal, Clinton's State Department approved.
"One thing you can bet on with mathematical certainty is that the Russian FSB has compromised Hillary Clinton and her inner circle to such an extent that you can bet that US policy will be subordinated to the Kremlin's strategy," Redstate wrote.