Hillary Bombshell: New Claims SHE Is The One In Cahoots with Russia!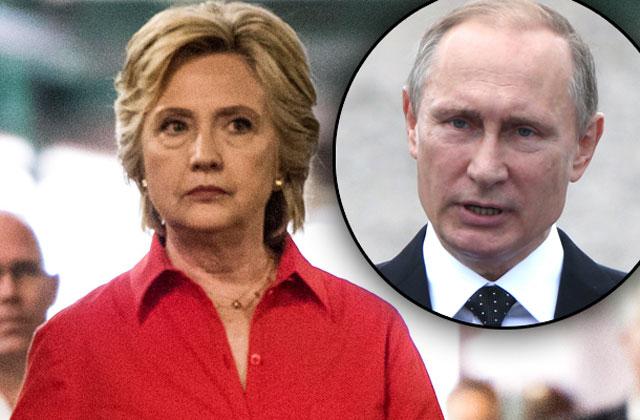 Is this Hillary Clinton's biggest lie yet? Amid claims that Donald Trump pressured Russian hackers to breach her emails, a new report claims that SHE is the presidential candidate who is actually conspiring with Vladimir Putin's countrymen!
A report released on Monday called "From Russia With Money — Hillary Clinton, the Russian Reset and Cronyism" exposes new claims about Clinton's secret international connections.
Article continues below advertisement
While serving as secretary of state, for example, Clinton and President Obama began an attempt to improve relations with Russia, calling their plan the "Russian Reset." Clinton even presented Russian diplomat Sergey Lavrov with a red button that was meant to say "reset" in Russian but instead translated "overcharged," according to CNN.
The report, authored by Clinton Cash writer Peter Schweizer, details Clinton's ties to the Russians, specifically involving "Skolkovo," a Silicon Valley-like campus for developing "biomed, space, nuclear and IT technologies" The New York Post reported.
Schweizer wrote, "Many of the key figures in the Skolkovo process — on both the Russian and U.S. sides — had major financial ties to the Clintons. During the Russian reset, these figures and entities provided the Clintons with tens of millions of dollars, including contributions to the Clinton Foundation, paid for speeches by Bill Clinton, or investments in small start-up companies with deep Clinton ties."
Article continues below advertisement
The Clinton Foundation has long been accused of associating with questionable donors and financial irregularities and the Russian ties add another layer of international suspicion. "Of the 28 US, European and Russian companies that participated in Skolkovo, 17 of them were Clinton Foundation donors," Schweizer told The New York Post.
Schweizer went on to tell The Post that Skolkovo actually made America less safe, because it "shared advanced US technology that Russia can develop for both civilian and military applications, a concern raised already by Army and FBI officials."
The reset attempt was not successful, however, and faded out in 2011 when Russian President Vladimir Putin accused Clinton of inciting Russian protests. He said Clinton "sent a signal" to "some actors in our country," The New York Times reported.
"We don't have an email or a pirated voice mail message saying, 'We'll give you money if you help us with Skokovo,'" Schweizer told The Post. "But what we do have is a pattern that shows a high percentage of participants in Skolkovo who happen to be Clinton Foundation donors.
Article continues below advertisement
Schweizer said that in the end, Clinton and the Russians win, but Americans lose. "I think that everybody at the Russian reset table seems to walk away with something," he added. "The Clintons, they get their donations and speaking fees in the millions of dollars. The Russians get access to advanced US technology. The tech companies that participated in the reset, including Cisco, Intel, Microsoft get special access to the Russian market and workforce ... But the American people get nothing. In fact, we get a rival — Russia — with enhanced technological capabilities. At best, that makes them a tougher competitor." Schweizer said. He insisted that people "follow the money."
Clinton has yet to comment on the scandal.
Story developing.