Presidential Election 2016
Tim Kaine CAUGHT Slamming Bill Clinton For Lewinsky Scandal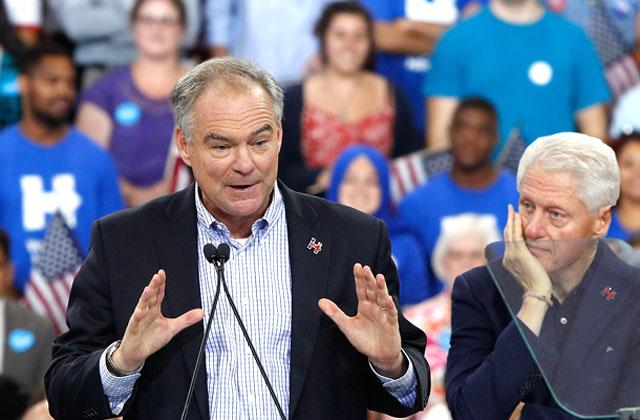 Hillary's running mate hasn't always been Team Clinton. RadarOnline.com has learned that he spoke out years ago to slam her husband in the midst of the Monica Lewisnky scandal.
Though Kaine might be Hillary's number one fan, he was once one of Bill's biggest critics.
When Kaine was Virginia's lieutenant governor in 2002, he responded to allegations of sexual harassment against Speaker of the Virginia House of Delegates, Vance Wilkins.
Article continues below advertisement
Wilkins "agreed to pay $100,000 in hush money to a former female employee at his construction company who said he sexually harassed her," the Daily Beast reported.
Kaine told the Richmond Times-Dispatch "if the allegations are true, he should definitely resign," referring to Wilkins. The vice presidential contender added that he felt similarly about President Clinton's affair with Lewinsky in 1998. "Somebody in public life shouldn't behave that way toward women…It's tawdry," the Daily Beast reported that he said.
The Daily Beast also cited an Associated Press article that quoted Kaine slamming Clinton: "When I read it this morning, my reaction was the same I had when I read about the Clinton-Lewinsky affair: this is not appropriate conduct. It's beneath the dignity of the office," Kaine said.
So what does Kaine have to say about his past criticism against Bill? He told news station KWWL this week that his comments were "not inaccurate," but wanted to keep voters' focus on the present and future.
"Twenty years ago I was disappointed like a lot of folks were, but I tell ya," Kaine said, "There is no reason to re-litigate problems of 20 years ago when Americans want to talk about is what do we do today and tomorrow. ... past controversies aren't really important to the voters. They want to know what we are going to do tomorrow."
Bill has yet to comment.