Calling All Angels! Sickly Della Reese Admits: 'My Life Is At Stake'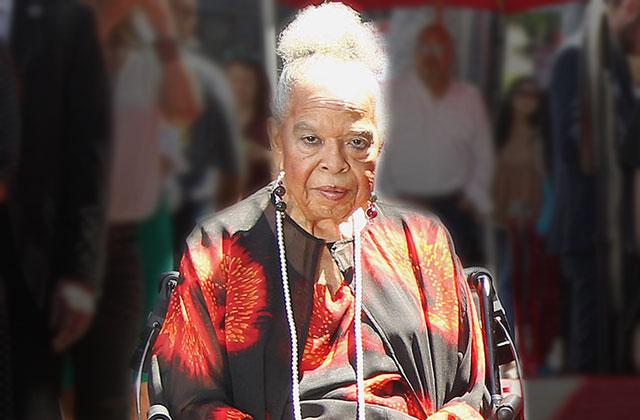 Showbiz icon Della Reese has been forced to use a wheelchair to get around after being ravaged by diabetes and TWO brain operations, RadarOnline.com can exclusively reveal.
Now fans are praying for the legendary songbird and star of TV's family hit show, Touched by an Angel, who needed surgery to avoid becoming a vegetable.
A top medical expert told Radar that Reese's weakened condition is likely due to high blood sugar issues, which often lead to nerve and brain damage.
Article continues below advertisement
The 85-year-old actress' shocking appearance stunned fans when she turned up to honor her Angel co-star Roma Downey, who received a star on the Hollywood Walk of Fame last month.
"She was barely recognizable," claimed an onlooker. "She's clearly deteriorated a lot in the last few years."
The famed gospel and pop songbird recently confessed she's in a life-and-death struggle with type 2 diabetes, which can kill or cripple.
"My life is at stake," she said. "I don't have type 2 diabetes — type 2 diabetes has me."
Tragically, Reese's condition has plummeted since she appeared in the Hallmark Channel's 2014 hit Sign, Sealed, Delivered where she looked much healthier.
Dr. Gabe Mirkin, who hasn't treated Reese, told Radar diabetes destroys brain and nerve cells and weakens bones, too.
"She looks horrible," he said. "She obviously is in a wheelchair and she probably has all kinds of cell damage including to her arteries and her brain and everything else from the high blood sugar."
Article continues below advertisement
"She probably has some central nervous system brain damage."
Reese was diagnosed with diabetes in 2000 after she collapsed on the Angel set. She admitted her old, nightly snacks of fried chicken, potato chips, ice cream, candy bars and cola were the cause.
Earlier, in 1979, she suffered a brain aneurysm and needed two operations to survive.
Her docs told her, "Even if an operation were successful, I could have ended up a vegetable," she revealed.
Della's rep Lynda Bensky insisted the star isn't "wheelchair-bound," but admits "she has been in and out of one for years … as she gets older she doesn't walk that far."
Mirkin claimed using the wheelchair makes Della's condition worse, adding, "You have to use muscles, because active muscles pull sugar right out of your bloodstream."