Presidential Election 2016
Clinton Foundation Set To Lose Major Donors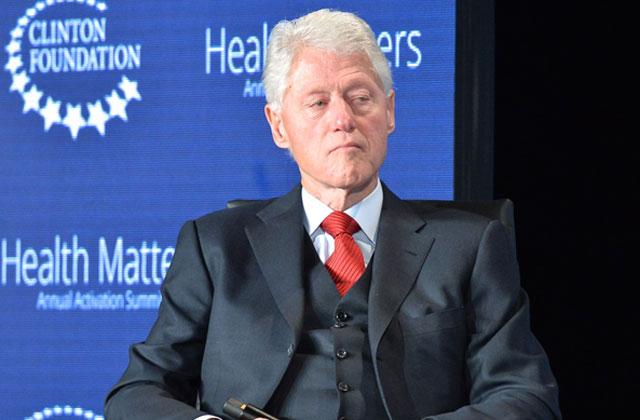 Bill Clinton has announced that the Clinton Foundation will no longer accept donations from corporations and foreign entities if his wife is elected president.
The former president revealed the decision at a recent staff meeting. Bill also said he would be stepping down from the board of the organization and that he would be shutting down the Clinton Global Initiative, regardless of whether Hillary wins.
Article continues below advertisement
If there's one scandal -- aside from emails -- that has been troubling Hillary's presidential campaign it's claims about the Clinton Foundation's shady deals. On its website the Clinton Foundation claims to "operate programs around the world that have a significant impact in a wide range of issue areas, including economic development, climate change, health and wellness, and participation of girls and women."
But the organization has been shrouded in controversy for years. Financial analyst Charles Ortel claimed to have discovered major holes and financial inconsistencies within the Clinton Foundation's books and, as RadarOnline.com previously reported, one foreign donor was suspicious enough to warrant a meeting between the FBI and Justice Department, seeking to open an investigation into the Foundation.
The Clintons' decision to eliminate foreign could be seen as a move to erase any potential conflict of interest concerns. Donald Trump's running mate, Mike Pence, has accused the Clintons of participating in pay-to-play politics, claiming there was a "direct connection between favors done by State Department officials and major foreign donors to the Clinton Foundation." Pence was suspicious that contributions to the Foundation directly affected actions Hillary took as Secretary of State and called for a new investigation.
Reince Preibus, the Republican National Committee Chairman said, "If everything was above board while Hillary Clinton ran the State Department as the Clintons have said, then why change a thing?"
Bill insisted that he and daughter Chelsea did not face outside pressures in making this decision.
Going forward the Foundation will only accept money from American citizens and independent charities. The Boston Globe reported that "since the foundation's inception, it has collected as much as $25 million from Saudi Arabia, as much as $10 million from Kuwait, and up to $5 million a piece from the Citi Foundation, Barclays Capital, and Exxonmobil."