Exclusive
Not So 'Real!' Ex 'RHONJ' Villain Jim Marchese Reveals EXPLOSIVE Behind-The-Scenes Fakery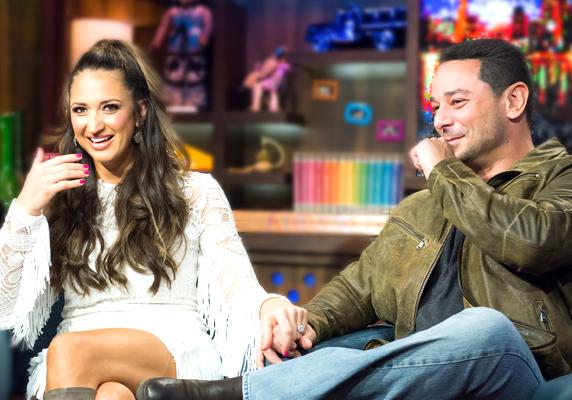 The Real Housewives of New Jersey doesn't just have low ratings — it also has low-blow behind-the-scenes techniques!
Ex-cast member Jim Marchese revealed to RadarOnline.com exclusively that the show's producers created more than just drama for its stars when he was on the show, as there's no limit to the relationships and storylines they manufacture. RadarOnline.com previously reported that he and his wife Amber quit RHONJ at the end of season six and have adamantly distanced themselves from the reality show since.
Article continues below advertisement
"The Housewives, for me, it was completely fake," he told RadarOnline.com. "Like none of these people were ever really in my life. It was a very scripted show for me. Nothing was real, and so they were nothing more than actors that I worked with."
"Viewers did not get a feel for who Amber and I are, what we're about," he added. "We're actually kinda boring honestly. So they created things for us…all the times she had to cry about cancer, completely production invented. That was her I guess, the story they kinda foresaw."
"I asked the producers to stop and really focus on who we were a hundred times," he confessed. "We actually got in fights about it, and they made my wife do things."
"She constantly called Teresa; she was forced to go to Long Island," he said of Amber's fakery. "She was never going to Long Island to meet with Victoria Gotti. That was never supposed to happen. Those were things that she was instructed to do. They pretended that my wife just showed up at Teresa Giudice's book signing — no she was ordered to be there. That was a job. That was a completely production made event."
Article continues below advertisement
"The producers 100 percent wrote my lines," he revealed of his time filming. "They would make me recut scenes four or five times because they didn't like what I did. Everything from the idea of a pig roast was theirs — the Florida trip was theirs — to the reason I didn't go bowling was theirs. It really wasn't — there was nothing that was authentic in my world."
"Most of the conversations weren't even conversations we would normally have," he added, noting that he had to rehearse telling Teresa Aprea that her husband Rino slept with her mom during their epic Boca Raton battle!
"I was in the shower practicing it," the 46-year-old admitted. "It was hysterical. It's just not something you say as an adult!"
"I don't care if it's fake and you're acting," he said of his ruthless diss. "It doesn't matter. It's just hard to keep a straight face the whole time. I mean I had to practice it for like a week to not crack up as I was saying it. The hardest thing for me to do was to be as brutal and over the top because that's not my personality. So needless to say, I took a lot of liquor to make that scene work for me. A lot of liquor. Probably more than I should've had!"
Article continues below advertisement
"I had to get blitzed to do that scene," he laughed. "I couldn't do that scene straight. I mean, and I caught a lot of heat for this, but I was given a ticket for one day and my job was to get thrown out in one day. That's not easy to do. And to tell someone that I think their husband had sex with their mother, is not an easy thing to do."
"I compare it to drinking 10 shots of tequila," he concluded of his time on the show. "It's a lot of fun when you're doing it, but when you get to the tenth shot, you know you shouldn't have done it and you regret it for a while. But you can still laugh and talk about it later."
"Real Housewives is exactly like that," Marchese said. "It seemed like a really good idea when it first started, like that first shot. But that tenth, it's like what the hell am I doing?"