Exclusive
Sarah's Son's A Drunk! Track's Own Attorney Says He Needs Rehab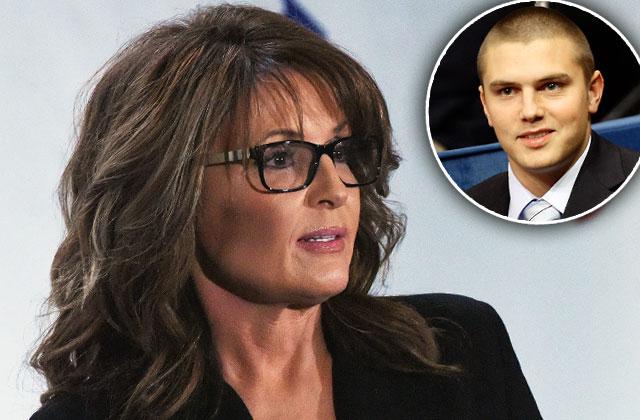 Sarah Palin's son is heading into treatment instead of jail after his January domestic violence arrest — and his own lawyer told RadarOnline.com he needs help for his alcohol problem!
Track "has been assessed" by the VA, his attorney, Kevin T. Fitzgerald told Radar, and at a hearing later this month, he will receive his proposed treatment plan.
"I would expect it has some alcohol component," Fitzgerald said. "In all candor, Track could be well-served by treatment."
Article continues below advertisement
As Radar reported, the treatment option was offered by the Anchorage DA as part of a sweetheart plea deal Track cut on July 11. Although he had previously been charged with domestic violence assault, interfering with a domestic violence police call, and possession of a weapon while intoxicated, he pleaded guilty only to the third and the other two were dismissed.
"We got a very favorable resolution," Fitzgerald told Radar.
Getting the domestic violence assault charge dropped was "not an insignificant dismissal," he said, insisting that the possession of a weapon while intoxicated charge "really more accurately tracks what went down" when Track was accused of drunkenly attacking his girlfriend in January.
Still, Fitzgerald said they weren't altogether pleased with the final charge that stuck. "I believe it's got constitutional infirmities because it precludes people form possessing firearms, even unloaded firearms, in their own homes if they're under the influence," he insisted. "We weren't going to make a big constitutional issue of it, but that's what the situation was."
Article continues below advertisement
Now, Track, 27, will enter a therapeutic program through the VA, which could last "several months," the Anchorage DA, Clinton Champion, told Radar.
Said Fitzgerald, "If he completes the treatment, the last charge too will be dismissed. If he doesn't then he's looking at 180 days … with two years of informal probation."
As Radar reported, Track — an Iraq vet — had his case moved to Alaska's "Veterans Court" on July 11.
"It's a pretty amazing experience," Fitzgerald explained. "You go in, and it's all vets. They talk about their treatment and how they're doing, and if they've done well everybody applauds for them."
Track's mom Sarah previously blamed his outburst on PTSD, although he is reported to have missed active combat during his 2008 tour of Iraq.
As Radar reported, this isn't the first time Track has been caught in a boozy brawl. In October 2014, Radar published embarrassing audio of him ranting to cops after a fight broke out at a backwoods Wasilla bash.