Exclusive
Rehab For Sarah's Son! Inside Track Palin's Shocking Decision After Assault Arrest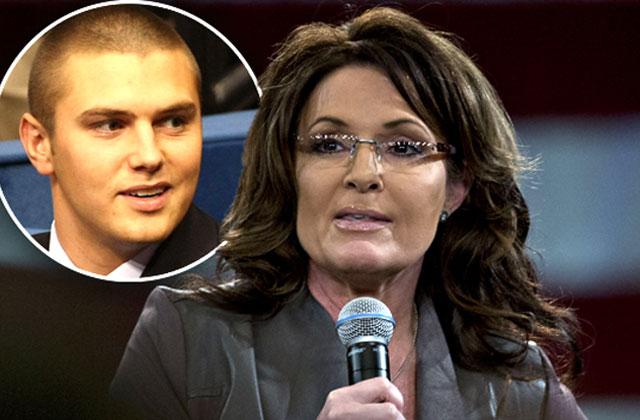 Sarah Palin's son Track could escape jail time in his domestic violence assault case after scoring a sweet plea deal, RadarOnline.com has learned. According to the Anchorage District Attorney, Track, 28, is likely to enter a "therapeutic program" instead of going behind bars.
As RadarOnline.com reported, Track was arrested in January on charges of 4th degree assault, interfering with a domestic violence charge, and possession of a weapon while intoxicated. On July 11, he pleaded guilty to the third charge, and the court dismissed the two others. In addition, his case was transferred to the jurisdiction of the Anchorage "Veterans Court."
Article continues below advertisement
According to Alaska state materials, the Anchorage Veterans Court is "a specialized court designed to facilitate the rehabilitation of eligible veterans who are charged with criminal offenses," and is aimed at reducing the "incarceration of offenders who are veterans." It offers rehabilitation programs for vets, especially when their mental or emotional problems are related to the charges they face.
Currently out on bail, Track will have his next hearing on July 25 — in a special veteran's court. And at that time, Anchorage DA Clinton Champion told RadarOnline.com, "They're going to let him know what therapeutic program he has to follow."
"We're assuming he's going to agree to the program," Champion told RadarOnline.com. "That program could take months. It depends on his needs."
Though the specific terms of Track's treatment is confidential, Champion said, "This is all through the VA. They do an assessment to try and figure out what the vet needs. For some people, it's addiction assistance. For some, it's related to anger management or domestic violence. Most everyone does moral reconation therapy, which is a 12 Step program to deal with thinking errors, specifically."
Article continues below advertisement
As RadarOnline.com reported, Track, 27, was arrested in January following a booze-fueled altercation with his girlfriend. "A male had punched her in the face and that a firearm was involved," read the police report about the incident.
His mom Sarah had previously blamed his arrest on PTSD related to his time serving as an army reservist in Iraq in 2008.
She said, "My son like so many others, they come back a bit different, they come back hardened, they come back wondering if there is that respect for what it is that their fellow soldiers and airmen and every other member of the military so sacrificially have given to this country. And that starts from the top. It's a shame that our military personnel even have to wonder, if they have to question, if they're respected anymore. It starts from the top. The question though that comes from our own president where they have to look at him and wonder, do you know what we go through? Do you know what we're trying to do to secure America and to secure the freedoms that have been bequeathed us?"
However according to reports regarding Track's discharge papers, he never saw any active combat during his time overseas.
UPDATE:
Track's attorney, Kevin T. Fitzgerald, told RadarOnline.com, "We got a very favorable resolution."
The dismissal of the domestic violence charge is "not an insignificant dismissal," he said, praising the veterans court option.
The possession of a weapon while intoxicated charge "really more accurately tracks what went down," he said.