History Of Trouble: Track Palin's 'Violent' Outbursts Exposed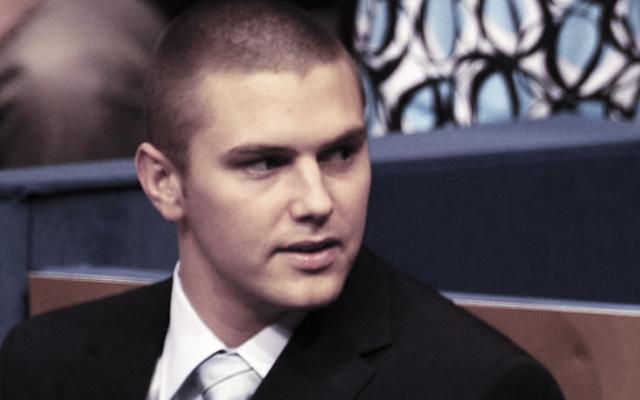 When Track Palin was arrested for assault against his girlfriend Monday, the world was stunned by the latest wild news from Wasilla. But RadarOnline.com has learned that the violent outburst was no surprise to the people who know the army vet. According to an insider, Sarah's son has a history of aggressive "outbreaks" that worried his friends and family.
"Track is a hothead," an insider told RadarOnline.com. "He has these outbreaks."
Article continues below advertisement
In one incident on a family vacation to Hawaii, the source said, "Track had fallen asleep at the hotel and we left to go for a walk on the beach. When he woke up, he snapped."
"When we got back to the hotel, it was total chaos, nearly a fist fight. Pretty violent. He was being verbally abusive."
According to the insider, however, friends never saw Track commit physical abuse on his girlfriend prior to the incident this week.
As RadarOnline.com reported, Track, 26, was arrested for assault and possession of a weapon while intoxicated, after allegedly attacking his partner in a Wasilla, Alaska, home on Monday, January 18.
According to police reports, the first call came from his girlfriend, who claimed "a male had punched her in the face and that a firearm was involved." RadarOnline.com has chosen not to identify the victim.
Mom Sarah later blamed the outburst on President Obama's supposed lack of support for troops, and the "ramifications of PTSD." The insider claimed Track's military service may indeed have something to do with his demeanor.
Said the source, "I think it has to do with PTSD."
Still, the insider insisted there's no excuse for his wild outbursts, and especially not for the violent attack on his girlfriend.
"In Sarah's comments, she didn't even mention the domestic abuse. It was offensive."
"I want everyone to know who he is," the source told RadarOnline.com. "I want him to man up about it."
Story developing.