Ryan O'Neal's Son Asking Public To Help Pay For Dog's Surgery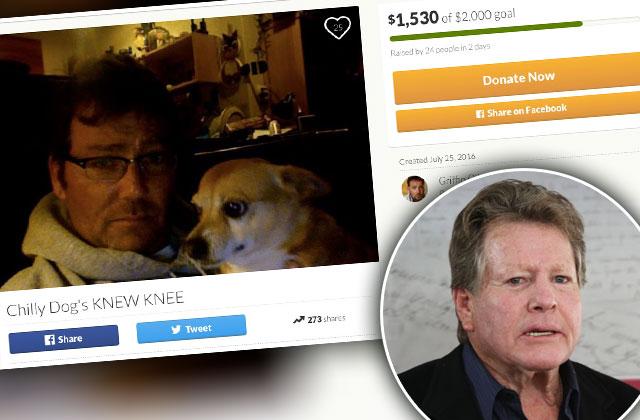 Ryan O'Neal's son Griffin's money troubles are so bad that he's begging the public to pay for his dog's surgery!
Griffin, 51, created a GoFundMe page to help raise $2,000 for his Chihuahua Chilly Dog's medical expenses.
"Chilly Dog is our loyal 10 year old Chihuahua grande," the page read. "Last week he jumped off of the bed wrong and busted the cruciate ligament in his left knee, and possibly shattered his meniscus. He goes in for surgery Tuesday morning 7/25/16."
Article continues below advertisement
Griffin, 51, explained how the $2542.28 bill is a "big hit" for the family.
"We are all confident that the surgery will get Chilly back on 4 paws and back in action," he continued. "I am so grateful to have so many animal loving friends who are willing to help out if they can! I will keep you posted on his progress! God Bless. Griffin & Family."
Tatum O'Neal's brother raised $1,690 of the $2,000 goal.
Griffin gave an update on his page, revealing how his pooch "has survived the surgery and is now in recovery."
Why didn't the father of four asked his famous dad for the funds?
In 2009, he claims in an interview with CNN that his father once pointed a gun at him. He also accused the actor of cheating on Farrah Fawcett regularly and abused drugs with Griffin's half-brother Redmond.
Fawcett left Redmond $4.5 million when she passed away in 2009, as Griffin, whose mother is the late Joanna Moore, received nothing from his stepmother.
Are you surprised Griffin is so broke? Tell us in the comments below!