Reeva Steenkamp's Cousin On Model's Brutal Murder: 'I Could Have Saved Her!'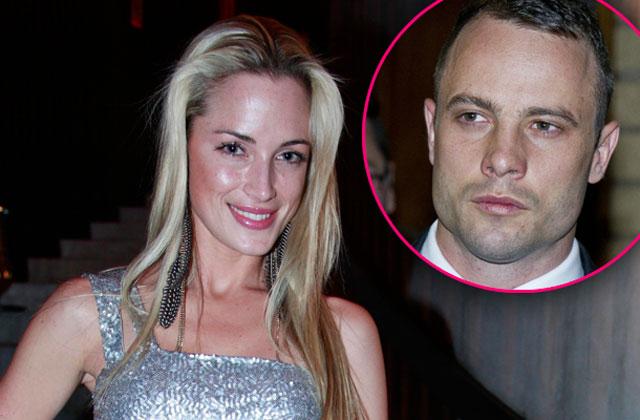 Oscar Pistorius was finally sentenced to six years in prison for the murder of his girlfriend, Reeva Steenkamp, in 2013 — but the pain of her death lives on, especially for the model's family members.
In an interview with Woman's Day, cousin Kim Martin recalled the horror she felt when she heard the news of Steenkamp's killing, revealing that warning signs emerged just weeks before.
"I'll never forget the last time I saw Reeva," the 44-year-old told the publication. "It was January 2, just a few weeks before her death, and she brought Oscar to meet us. They dropped in on their way to a popular beach spot up the coast and we went to breakfast."
Article continues below advertisement
According to Martin, Pistorius soon became agitated. "It was very strange, almost awkward. He was unhappy with the service at the cafe," she recalled.
"He got up from the table to take a phone call. I asked Reeva quickly while he was gone if she was happy," Martin continued. "She paused, shrugged her shoulders, and said very unconvincingly, 'Yes, but we need to talk.' I never had a chance to have that conversation."
"Looking back, I know that was the day she reached out to me – it was a cry for help. I never asked her to elaborate and that's plagued and haunted me ever since," she said, full of regret. "She was in strife. And it was too late before we all realized."
When asked if she believed Pistorius to be the jealous type, Martin answered, "Definitely, 100 percent. I know he was driven by jealousy."
"I don't believe Reeva was ever in love with Oscar," she later added of her cousin's short-lived romance. "They'd hardly been together at all. They first met back in November, just a few months before she died."
As RadarOnline.com previously reported, Pistorius shot and killed Steenkamp, then 29, on Valentine's Day in 2013 after he claimed he mistook her for an intruder.
The star, who was initially found guilty of culpable homicide in 2014 and had served 12 months on house arrest prior to his six-year sentence, claimed to be remorseful for taking his girlfriend's life.
On Wednesday, the disgraced Olympic athlete was sentenced to six years in prison, showing little emotion as South African judge, Thokozile Masipa, delivered the news.